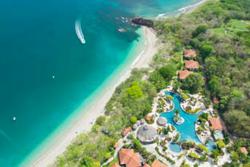 The Westin Conchal is by far our most popular all inclusive hotel & resort.

- Adam Baker, CRV
Playa Conchal, Guanacaste (PRWEB) January 30, 2013
CRV offers a wide selection of choices when deciding upon your next trip and of the more popular Costa Rica all inclusive resorts is the infamous Westin Conchal Resort & Spa.
The Westin is a 5 star all inclusive hotel located on one of the country's most breathtaking beaches...Playa Conchal.
Nominated as 2013 Travelers Choice, this opulent hotel and golf resort is unique in it's own special way.
As the one and only all inclusive Westin branded hotel, the Westin Conchal retains it's stellar reputation as being one of the most exclusive upscale resorts and spas in the world.
"The Westin Conchal is by far our most popular Costa Rica all inclusive hotel & resort. Our clients love the idea of having the convenience of an all inclusive without sacrificing the luxuries a 5-Star resort has to offer. " says Adam Baker of Costa Rica Vacations.
As the leading Costa Rica travel agency, CRV offers a plethora of choices to chose from when considering your next vacation to this exotic Latin American nation of just over 4.3 million. Some of the more popular vacation packages offered by CRV include stays at the notorious Westin Conchal Resort & Spa.
Over the past few years the popularity of Costa Rica as a premium tourism destination has continued to grow. The nation has become an epicenter for eco-concious travelers and adventure seekers alike.
Some exciting activities Costa Rica vacation packages may include are: zip lining, bluewater fishing, surfing, volcano tours, jungle excursions and more. In essence...there's a little something for everyone.
With high season in full swing, Costa Rica is expected to have another record year for tourism arrivals to the country by way of it's two international airports - Daniel Oduber International in Liberia & Juan Santamaria in Alajuela in the Central Valley. In order to keep up with demand, airlines like JetBlue, United and Canada's Westjet, have all expanded to include more flights - and even new routes - to and from the country.
For more information on how to book your next Costa Rica vacation at the Westin Conchal, talk to a CRV travel expert today.
About CRV (Costa Rica Vacations):
Founded in 1999, Costa Rica Vacations (CRV) mission is to give people the power to create their own custom vacation packages. Anyone can offer vacation packages yet CRV prides themselves in recognizing your unique "travel personality" rather than the one-size fits all concept our competitors. CRV is a privately held company and is headquartered in San Jose, Costa Rica with offices in Panama, Nicaragua.