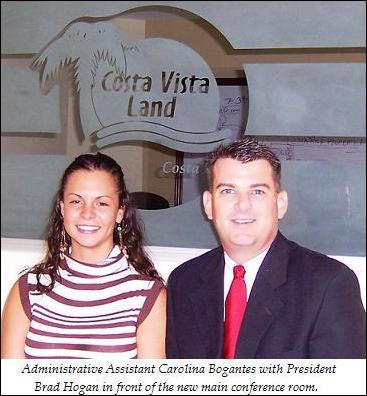 We didn't create paradise, we make it accessible.
Dominical, Costa Rica (PRWEB) January 16, 2007
Paradise Brokers introduces a turnkey solution for investing in Costa Rica property. The company's primary focus is developing raw land with wide American-style roads and services, and selling it at pre-development prices.
As COO of Paradise Brokers, Mr. Nick Halverson has put together a team with over 40 years experience in land purchasing and developing, and is developing paradise in Costa Rica. With Ben Vaughn as Sales Director and CEO Jim Gale, Paradise Brokers quickly became a strong player in the Costa Rica real estate development arena.
Paradise Brokers guides investors through the entire process, including land selection, development, all paperwork and even re-sale. "Paradise Brokers doesn't just sell land, we build relationships with our investors and provide numerous value added services to make investing in Costa Rica land a seamless experience," stated Mr. Halverson.
The Costa Rica real estate market is booming, similar to Hawaii, Florida and California 30 years ago. Investors in Costa Rica property are expected to double or triple their money over the next several years. Costa Rica boasts a tropical climate, pristine beaches, and an educated populace, many who speak English as their second language. This has made Costa Rica a popular destination for travel, business relocation, second homes, and retirement.
About Paradise Brokers
Paradise Brokers (http://www.paradisebrokers.net) is 'developing paradise' in Costa Rica as a full service real estate investment, development and property management company. Whether you are interested in panoramic ocean views, waterfalls, golf course lots, or mountain and river views, Paradise Brokers has it all: financing available. Their four offices provide unparalleled service and accessibility and that's why COO Nick Halverson says, "We didn't create paradise, we make it accessible." Paradise Brokers' lucrative program has a 100% money back guarantee and they will arrange all your travel, lodging, and excursions. For a limited time, get a $1,500 reimbursement upon visiting your new property.
For more information call 1-877-CRLand1, (275-2631). Grab your FREE 40 minute DVD and the 'Blueprint to Costa Rica Riches' NOW at http://www.developingparadise.com.
###