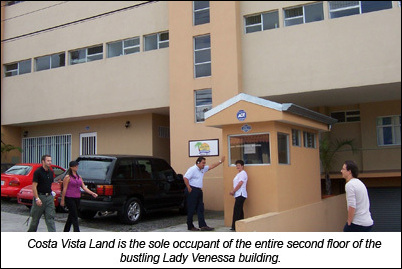 We created an office environment that is both inviting and efficient, allowing us to provide a high level of service to fit our clients needs
Sabanilla, San Jose, Costa Rica (PRWEB) January 19, 2007
Costa Vista Land (CVL), a fast-growing Costa Rica real estate development company, announces the opening of their new office. Now, Costa Vista Land is poised to continue expansion plans and provide a high level of service to their investment clients.
Costa Vista Land's office is a spacious 4300 square feet and occupies the entire second floor of the Lady Vanessa building. It was the perfect choice for their growing business in Costa Rica due to the ample outdoor and underground parking, central location and easy access off the main roads. It is located near San Pedro, a major commercial location that boasts many restaurants, shops, and businesses; therefore entertaining clients leaves many options.
The second floor of the building was completely renovated and is now equipped with broadband internet, the latest equipment and technology, a Vanguard VOIP phone system, and a US Robotics phone system in the large conference room. Visitors enjoy panoramic views of the mountain ridges, along with the surrounding Costa Rica land. "We created an office environment that is both inviting and efficient, allowing us to provide a high level of service to fit our clients needs," stated Mr. Brad Hogan, President and Founder of Costa Vista Land.
Costa Vista Land is dedicated to educating their clients about investing in Costa Rica property. The owners of the company are diligent in assuring that each and every client purchase is made with minimal reservations, so that the clients can feel comfortable with their investment. That's why they employ a full staff, including a sales and an 'in house' marketing team, as well as support staff to ensure that every aspect of the business runs smoothly.
About Costa Vista Land:
Costa Vista Land (http://www.costavistaland.com) is 'developing paradise' in Costa Rica. The company buys raw land in large quantities after they have thoroughly surveyed and researched all details. Because of this, Costa Vista Land acquires their properties at discount prices and develops them in less than 18 months. Hence the unique program in which you can obtain developed land at undeveloped prices and why company President, Brad Hogan says, "We are an investment company first and a land sale company second." Parcel choices range from valleys to mountains, to beautiful coastline property. This lucrative program comes with 100% money back guarantee. Everyone is encouraged to visit Costa Rica, stand on their property and see the beautiful country they have invested in. While visiting, the company pays for your accommodations, meals and transportation.
For more information contact 1-877-55-COSTA. And Grab Your Free 50 Minute CD Now, by clicking here: http://www.developingparadisecd.com
###