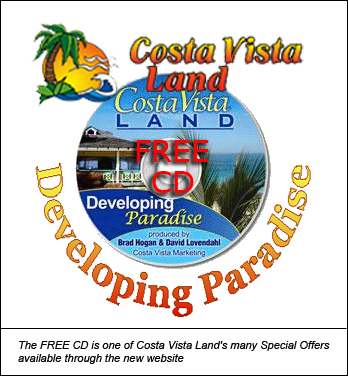 We wanted to create a visually appealing website that is both informative and entertaining, where visitors can get an understanding about who we are and what services we offer
Dominical, Costa Rica (PRWEB) January 28, 2007
Paradise Brokers,, a leader in Costa Rica real estate development, today announced the launch of its website at http://www.paradisebrokers.net. The website offers an overview of the Costa Rica real estate market and resources to learn about investing in Costa Rica land. Turn on your sound, go to the website and be lured to paradise.
Visitors to the website's 'Home Page' are greeted with a personal welcome message from Nick Halverson, COO of Paradise Brokers. "We wanted to create a visually appealing website that is both informative and entertaining, where visitors can get an understanding about who we are and what services we offer," comments Halverson.
The website focuses on the development of Costa Rica real estate, which Paradise Brokers refers to as "developing paradise". The investment company acquires and sells raw land and advises clients throughout the entire research and purchasing process. Paradise Brokers offers a 100% Money Back Guarantee, along with many other services, as described on the 'Services' page.
COO Nick Halverson,Chairman of the Board, Duane Halverson, CEO Jim Gale and Sales Director Ben Vaughn make up the management team of Paradise Brokers. Together they have more than forty years of experience in land development and lead a team of engineers, surveyors, topographers, and architects to research each property in detail before acquiring it. Visit the 'Biographies' section for detailed information about each Paradise Brokers partner.
Hear what satisfied customers who have purchased Costa Rica land are saying by visiting the 'Testimonials' section of the website. It will give you a small taste of what this company brings to the table.
Registering for the free investor's newsletter keeps visitors informed about [Costa Rica. The newsletter reveals why investors are flocking to this jewel of Latin America countries and contains information on the culture of Costa Rica, golfing, cuisine, the economy, the low tax structure, and more. Simply enter your first name and email address to receive the weekly investor's newsletter. Select 'Newsletter #1' from the menu to see the first published newsletter.
A free DVD and Investor's Report are available. They explain what's happening in one of the hottest real estate markets in the world and provide insight into the benefit of investing in Costa Rica property. To request a CD, visit the 'Special Offers' section, or any page where the CD appears.
An easy-to-read 'Site Map' simplifies navigation and is a great starting point for anyone who has heard the chatter about this wondrous land and wants to know more. Read, peruse and enjoy.
About Paradise Brokers
Paradise Brokers (http://www.paradisebrokers.net) is 'developing paradise' in Costa Rica as a full service real estate investment, development and property management company. Whether you are interested in panoramic ocean views, waterfalls, golf course lots, or mountain and river views, Paradise Brokers has it all: financing available. Their four offices provide unparalleled service and accessibility and that's why COO Nick Halverson says, "We didn't create paradise, we make it accessible." Paradise Brokers' lucrative program has a 100% money back guarantee and they will arrange all your travel, lodging, and excursions. For a limited time, get a $1,500 reimbursement upon visiting your new property.
For more information call 1-877-CRLand1, (275-2631). Grab your FREE 40 minute DVD and the 'Blueprint to Costa Rica Riches' NOW at http://www.developingparadise.com.
###