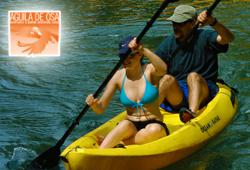 Corcovado National Park, Costa Rica (PRWEB) May 21, 2013
Corcovado National Park and Caño Island have been described by National Geographic as one of the most biodiverse locations on the planet. Aguila de Osa, one of Costa Rica's most influential eco lodges, announces heavily discounted rates to celebrate the green season.
Situated on the north side of the Osa Peninsula, Drake Bay attracts primarily the "eco tourist" who's conscious of their impact on the planet and who's also passionate about experiencing areas of the planet with intense flora and fauna.
Boat service up the Sierpe River and air travel connect Drake Bay to the rest of the world; however getting there is half the fun.
The area is home to Costa Rica's most prestigious eco-lodges and the most notable being Aguila de Osa.
Hand-crafted before machinery was available in the area, Aguila de Osa exudes a sense of harmony with its extraordinary surroundings.
Founder Bradd Johnson came to Costa Rica for the first time in 1986 under the impression that the country would be like Hawaii was through the late 60s and early 70s, and for the most part was undeveloped raw natural beauty. For once the stories were true.
Mr. Johnson would end up falling deeply in love with the incredible biodiversity and heavenly natural landscapes of the Osa Peninsula where, in 1992, he would open his dream fishing and diving lodge, Aguila de Osa.
Since then, the lodge has thrived as the premier destination for those seeking full immersion in to one of the most biologically intense locations on the planet - where divers and sport fishermen can experience the thrill of a lifetime.
Caño Island is the a fantastic alternative to the costly - and time consuming - venture to Cocos Island, located 330 miles off the Pacific Coast. Caño Island offers a strikingly similar experience within a 30 minute boat ride of the lodge. Divers have described their experiences here as other-worldly - where diving conditions are consistently top notch with underwater clarity to over 100 feet. The area is a protected national park land and therefore development and fishing are diligently regulated in and around the island which helps maintain this natural gem.
A few of the marine life you could expect to see here are: humpback whales, dolphins, false killer whales, bull sharks, white tip reef sharks, manta rays, stingrays, mobula rays, turtles, grunts, snappers, sand eels, moray eels and massive groupers.
Blue water fishing is considered some of the best in the country along the Pacific Rim - where landing +500lb blue marlin is very common. Additionally there are other big game fish commonly caught here like yellow fin and big eye tuna, red snapper, sailfish, dorado and amberjack to name a few.
The lodge itself features world-class cuisine using only the freshest and most organic ingredients available, posh - yet rustic - sizable accommodations that look out over the bay and an incredible array of activities including zip-lining and horseback tours. Also available to guests are the famous guided Corcovado National Park tours which offer a glimpse into what the planet was like before mankind - ancient tropical rainforests that provide a natural habitat to such majestic species like the jaguar, the endangered Baird's Tapir and even a small population of the very rare Harpy eagles. The park's rivers and lagoons are home to populations of both the American crocodile and spectacled caiman, along with bull sharks. A few other species of big cats include the ocelot, margay, jaguarundi, and puma. All four Costa Rican monkey species can be seen within the park, including the endangered Central American squirrel monkey, white-faced capuchin, mantled howler, and Geoffroy's spider monkey. Other mammals present include two-toed and three-toed sloth, collared peccary, northern tamandua and silky anteater.
With the Costa Rica green season in full-swing, Aguila de Osa is currently offering incredible savings on some of their most popular vacation packages including a few that feature stops at other Greentique Hotels located throughout the country.
See for yourself what makes a visit to Aguila de Osa, one you won't soon forget.
###
About Aguila de Osa
Established in 1992, Aguila de Osa quickly became known as the premier eco-lodge in Costa Rica. Nestled along the Pacific Rim above Drake Bay, Aguila de Osa is ideally located next to the world renown Corcovado National Park. Heavily focused on sustainable tourism Aguila de Osa is a proud member of Greentique Hotels - an environmentally conscious hotel brand with emphasis on providing a low carbon "eco-friendly" Costa Rica vacation. For more on Greentique visit their website at http://www.greentiquehotels.com and for more information on Aguila de Osa, visit their web site at http://www.aguiladeosa.com.