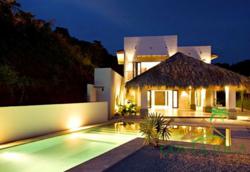 San Jose, Costa Rica (PRWEB) April 25, 2013
As the tourism high season in Costa Rica draws to a close, the country - and it's businesses - prepare for the "green season" which is widely accepted as low season for business owners operating within the tourism sector.
High season runs from the months of December until April while, for the most part, the remaining portion of the year is considered low season where tourist arrivals in to the country are generally far lower.
During a routine study by Costa Rica real estate agency CRREC, it was revealed that despite seasonal fluctuations between the two primaries [low/high season] there remains a few active subsidiary markets.
"Not surprisingly...people want a deal. And we're seeing a lot of activity in the sub-200k market whereas buyers are showing interest towards properties within this price point only to end up buying at a slightly higher level. I find this very intriguing and it shows that our real estate market experiences increased activity onset by a weak US market." stated Jerad Portner of CRREC.
As housing markets throughout the United States are still reeling, Costa Rica homes for sale continue to offer reprieve to those seeking offshore options offering exceptional returns on investment.
The fact is, Costa Rica is far more affordable with a cost of living at approximately 1/3 of that of the US - even building [your dream home] can cost far less at an average of around $110-$130 per square foot.
Recently there has been a fair amount of press surrounding Costa Rica retirement--a viable alternative to consider with superior healthcare, affordability, security and overall higher quality of life.
About Costa Rica Real Estate dot COM (CRREC):
CRREC ignited the real estate revolution in 1996 with its incorporation then reinvented themselves in 2012 with the acquisition by current CEO Brett Elliott who plans to further strengthen the CRREC brand. Costa Rica Real Estate dot COM continues to lead the industry with its trusted service guarantee and dedication to buyer protection which is defining the future of real estate in Costa Rica. For more information visit our web page at http://www.costaricarealestate.com