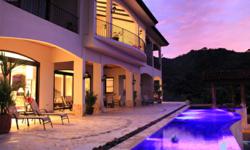 Having the opportunity to visit Villa Onda since it's transformation to hotel, I was pleasantly surprised by the attention to detail, lavish setting and highest quality service rarely seen in other hotels.

Adam Baker
Playa Cocos, Guanacaste (PRWEB) January 08, 2013
Costa Rica Vacations (CRV) is the preferred travel agency for vacationers looking for that "personal touch" when planning an exotic vacation. To kick-off the new year, the CRV staff designed two fantastic vacation packages that allow travelers to experience some of Costa Rica's finest hotel properties at a fraction of the normal cost.
Perched above the Papagayo Peninsula, lies one of Costa Rica's best - and luxurious - secrets.
Villa Buena Onda first became known as the premier luxury vacation villa in the province of Guanacaste however in late 2012 the villa would be reopened as a luxury boutique hotel.
The expansive views over the peninsula and lush surrounding landscape make any time spent at Villa Buena Onda an experience not to be forgotten.
Adam Baker of CRV had this to say about Villa Buena Onda,
"Having the opportunity to visit Villa Onda since it's transformation to hotel, I was pleasantly surprised by the attention to detail, lavish setting and highest quality service rarely seen in other hotels."
After receiving such a gleaming review from a CRV staff member, the decision to construct a few New Year Specials that includes a stay at the infamous Villa Buena Onda, was a simple one.
The Guanacaste Hideaway Package combines two of the finest boutique hotels in Guanacaste. Guests stay 7 nights and pay just 5! First, visit the eco-luxury lodge Rio Celeste Hideaway. Named after the majestic blue waters of Rio Celeste, this secluded property combines the best of lush rainforest surroundings and upscale lodging. The second part of your journey puts you at Villa Buena Onda. Perched above the Papagayo Peninsula, this 7 bedroom boutique hotel offers panoramic ocean views and personalized service. In addition to saving money, guests who take advantage of this offer will also save precious time. Both hotels are nearby the Liberia International Airport, which minimizes travel time.
See more info on this Vacation Package.
The second special is The Cross Country Combo. This package allows you to visit 3 very different hotels, landcapes and climates in one fantastic discount package. You stay 9 nights and pay just 7, saving up to $1,000! Start at Villa Blanca Cloud Forest Hotel, a boutique hotel built by former President Rodrigo Carazo, in the uplands of the Central Valley. Your second stop is Hotel Arenal Kioro. This hotel is known for breathtaking views of the famous Arenal Volcano. In addition, it features on-site hot springs and top notch customer service. Your final destination will be Villa Buena Onda where you can enjoy the giant 2-level swimming pool, overlooking the blue waters of the Papagayo Peninsula.
Read more about this Special Offer.
The talented team of locally-based travel experts at Costa Rican Vacations can customize any of their wide array of Costa Rica vacation packages to suit your specific needs. All you'll need to do is remember your toothbrush!
January is the busiest tourism month in Costa Rica, so book your holiday now to avoid missing out on these amazing travel deals!
About CRV (Costa Rica Vacations):
Founded in 1999, Costa Rica Vacations (CRV) mission is to give people the power to create their own custom vacation packages. Anyone can offer vacation packages yet CRV prides themselves in recognizing your unique "travel personality" rather than the one-size fits all concept our competitors. CRV is a privately held company and is headquartered in San Jose, Costa Rica.