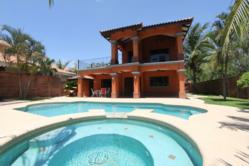 I feel more and more Americans are exploring the idea of living in paradise with a higher quality of life at a fraction of the cost

- Jerad Portner, CRREC
Tamarindo, Guanacaste (PRWEB) December 29, 2012
The country of Costa Rica - located in Central America and only a few degrees from the equator - offers an incredible selection of properties for sale including some fantastic bargains on lavish homes and condominiums.
Through the years the country has seen its housing market rise and fall with the effects of global and local economy, however as of late there has been a trend towards Costa Rica homes for sale.
Amongst the many advantages of investment in Costa Rica real estate - the most obvious being value for your dollar - the overall segment has remained relatively steady. Sure there were times where the market was soft however for the most part Costa Rica fended well through the global storm of economic turmoil and has in fact since shown signs of strong recovery.
Economists have forecasted a rise in real estate sales through 2013 as compared to last year. Tourist arrivals - often a good indicator of the success of many markets - have steadily risen since 2010 and early indicators are showing more of the same throughout the new year.
In 2011, the Costa Rica airport- Daniel Oduber International - in Liberia, Guanacaste, was expanded to facilitate the rising number of arrivals to the region. Additionally, the San Jose Juan Santamaria International airport was also renovated for the same reason. Clearly Costa Rica is preparing themselves for a prosperous 2013 season.
Sales Manager at CRREC, Jerad Portner had this to say about the rising interest in Costa Rica homes for sale.
"With economical and political uncertainty throughout the US - coupled with a weak housing market and rising mortgage rates - I feel more and more Americans are exploring the idea of living in paradise with a higher quality of life at a fraction of the cost back home."
Costa Rica homes for sale can be had for extremely affordable prices. The reality is, one can imagine living only steps from the white sand beach and turquoise waters of the Pacific for under $200,000 - this is the substantive nature of buying Costa Rica properties.
About Costa Rica Real Estate dot COM (CRREC):
CRREC ignited the real estate revolution in 1996 with it's incorporation. Then reinvented themselves in 2012 with the acquisition by current CEO Brett Elliott who plans to further strengthen the CRREC brand. Costa Rica Real Estate dot COM continues to lead the industry with its trusted service guarantee and dedication to buyer protection which is defining the future of real estate in Costa Rica.