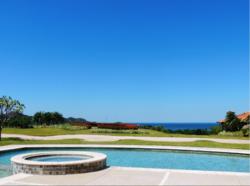 Playa Conchal, Guanacaste (PRWEB) December 18, 2012
As the Mayan calendar winds down and the pessimists of the world prepare for December 21, 2012, why not put all your worries behind and live like everyday is your last?
Each year the number of American citizens choosing to live abroad is rising. Costa Rica is increasingly becoming the preferred choice for many expats looking for an easier and healthier way of life.
Two yeas running, Costa Rica has been elected the happiest nation on the planet - and with good reason.
Renown for her natural beauty, breathtaking beaches, abundance of flora & fauna and of course some of the most scrumptious organic fruits and vegetables one could imagine - this all contributes to why Costa Rica is such an attractive alternative to many Americans, Canadians and Europeans alike.
What really grabs you by the earlobe and demands your attention is cost of living in Costa Rica. On average a couple without mortgage payments can live comfortably here for around $1000 - $1300/mth.
In the spirit of the holiday season, CRREC, the authority in real estate since 1996, has compiled a list of the Top 3 Costa Rica real estate bargains even the most frugal buyer can't ignore.
So without further ado here are the most affordable real estate deals in the country...
Kicking off the list we have a studio condo located within the prestigious upscale gated golf/beach community of Reserva Conchal. Recognized as the ultimate in luxurious living and enjoying the benefits of being squarely on Playa Conchal (the most beautiful beach in the country), having an 18-hole championship Robert Trent Jones Jr. course, beach club with fine dinning and even one of the areas most notorious day spas, Reserva Conchal represents elegance. This studio condo includes communal pool, brand new stainless steel appliances, BBQ and all backdropped by the white sands of Playa Conchal and the Pacific Ocean.
It's not often you find units within Reserva Conchal and this one is exceptional and priced to go at $299,000.
Second on our list of the Top 3 real estate bargains is...
Playa Flamingo (neighbor to Conchal) is one of the most popular beaches in the country for tourists given it's "tranquilo" nature. No big waves so even the kids can safely enjoy this magical paradise.
Sitting in front of the dreamscape views over Flamingo and the Pacific, this 3 bedroom, 3.5 bath condo is a spacious 1755 sq/ft and the best part...there are only 6 condos in the entire community making this very low density and private.
With the Flamingo Marina, this has immensely increased attention and real estate values in the area, however #2 on our list of the Top 3 real estate deals can be had for only $379,000. Imagine waking up to the sound of toucans while sipping freshly brewed coffee and peering over the Pacific Ocean? This is what dreams are made of.
Rounding out the list we've got the single most affordable Costa Rica real estate deal in the country.
Located steps from Playa Potrero in Guanacaste, this 2 bedroom, 2 bathroom condo features communal pool, BBQ area and is 1152 sq/ft in size. All for $150,000!!!
Imagine living only steps from the beach in Guanacaste, Costa Rica - where else can you find a 2 bedroom, 2 bathroom condo of this size for this price? It's for this reason that CRREC voted this the #1 best bargain in Costa Rica real estate.
With the real estate market showing encouraging signs of positive growth throughout late 2012, many insiders forecast that this will only increase and deals like these will be even more difficult to find.
To view the Top 3 Costa Rica real estate deals see below:

Luxury Condo on Golf Course @ $299,000 - View Here
Flamingo Dream Condo @ $379,000 - View Here
Condo Only Steps From the Beach! @ $150,000 - View Here
About Costa Rica Real Estate dot COM (CRREC):
CRREC ignited the real estate revolution in 1996 with it's incorporation. Then reinvented themselves in 2012 with the acquisition by current CEO Brett Elliott who plans to further strengthen the CRREC brand. Costa Rica Real Estate dot COM continues to lead the industry with its trusted service guarantee and dedication to buyer protection which is defining the future of real estate in Costa Rica.