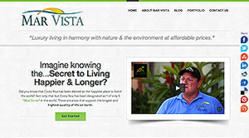 With Mar Vista it's all here! You don't have to wait for anything as it's already complete.

- Alejandro Berkowitz
Playa Flamingo, Guanacaste (PRWEB) February 21, 2013
The unique and sustainable community of Mar Vista is proud to announce the launch of their new website featuring videos, photos and incredible stories emerging from the most successful Costa Rica retirement community in the country.
Costa Rica's Gold Coast has become famous for it's pristine beaches, lavish surroundings and million-dollar sunsets, and with the explosion of Playa Flamingo, this can only continue.
Playa Flamingo has become known as the Santa Barbara of Central America, where you'll find copious amounts of exuberant homes dotting the peninsula along the turquoise shores of one of the most beautiful beaches in the country.
Ideally located in Guanacaste above such famous beaches as Flamingo, Brasilito and Playa Conchal, sits a one-of-a-kind Costa Rica retirement community called Mar Vista.
What began as a vision for a group of folks from the USA to start a sustainable community in harmony with nature, has since been realized. Today, Mar Vista is a bustling little community with a handful of existing homes, operating community centre with an impressive infinity-edge pool and even the La Paz school - a bilingual school onsite at Mar Vista with 220 students from over 20 different countries in attendance.
While many other development projects talk of their ambitious visions and present fancy renderings as reality, Mar Vista remains a tangible investment with full infrastructure already in place. A community where residents are currently enjoying a life many only dream of.
"With Mar Vista it's all here! You don't have to wait for anything as it's already complete," claimed Mar Vista project manager Alejandro Berkowitz.
Later Berkowitz would add, "We are a community with a common understanding of the importance of living in harmony with our environment. Mar Vista has a community organic fruit orchard with all the sumptuous tropical fruits of Costa Rica as well as a community organic vegetable garden and we even gather our material used for our roads from our natural catch basins from the rivers onsite at the project."
The Mar Vista eco-community is one without compromise - luxury ecoliving in paradise at an affordable price - that's what made this development one of talked about in the country.
After a successful 2012 season that saw 80% of Phase I sold out, Mar Vista is off to a fantastic start to the new year, and with the addition of a newly designed site, the team behind this spectacular project is anticipating another positive season for 2013.
About Mar Vista:
"Since it's inception, Mar Vista has been committed to ethically sourcing new and sustainable materials and design ideas to support the premier eco-community of Costa Rica. Today, with more than 80% of Phase I sold out, the community of Mar VIsta stands testament to the idea of a fully sustainable community dedicated to living a healthier and longer life in paradise at an affordable price.
Through our unwavering commitment to excellence and our guiding principles, we bring the unique Mar Vista experience to life for every resident. To share in the experience, please visit us online at marvistacr.com."