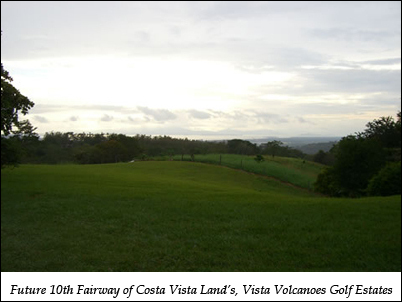 We are looking at an eight month window for the project to be sold out
Sabanilla, San Jose, Costa Rica (PRWEB) January 25, 2007
Costa Vista Land (CVL) announces the purchase of Vista Volcanoes Golf Estates, a partially developed 1,006 acre project located on Costa Rica's west coast. The company estimates between 300 - 325 lots will be available for investors looking to purchase Costa Rica property.
Vista Volcanoes Golf Estates has been in development for the past year. John Dorsey, CVL's Developer, stated, "We decided to buy the entire parcel, because we like it so much. The previous Costa Rica developer did a good job, but we've taken over this project with the intention of bringing a real pre-development, affordable price to the table."
By investing in Costa Rica real estate at the Vista Volcanoes Golf Estates, investors are ensured of receiving the property title and deed quickly, because the roads, water and legal work are already complete. Power will be connected within a few months. "We are looking at an eight month window for the project to be sold out," commented Dorsey.
Located in Guanacaste, Bagaces on Costa Rica's west coast, Vista Volcanoes Golf Estates is primarily flat, but has sweeping views of three volcanoes - Miravalles, Tenorio and Rincon de la Vieja. The Guanacaste region is an ecological area with rich vegetation and exotic animals and birds. The area is known for its abundance of beaches, national parks, biological reserves, resorts and fishing. And, with a new International Airport in nearby Liberia, Vista Volcanoes Golf Estates is an ideal location for investors. An added perk is the lifetime membership at the championship golf course (valued at $35,000), which is included with the Costa Rica land purchase.
About Costa Vista Land:
Costa Vista Land (http://www.costavistaland.com) is 'developing paradise' in Costa Rica. The company buys raw land in large quantities after they have thoroughly surveyed and researched all details. Because of this, Costa Vista Land acquires their properties at discount prices and develops them in less than 18 months. Hence the unique program in which you can obtain developed land at undeveloped prices and why company President, Brad Hogan says, "We are an investment company first and a land sale company second." Parcel choices range from valleys to mountains, to beautiful coastline property. This lucrative program comes with 100% money back guarantee. Everyone is encouraged to visit Costa Rica, stand on their property and see the beautiful country they have invested in. While visiting, the company pays for your accommodations, meals and transportation.
For more information contact 1-877-55-COSTA. And, grab your Free 50 minute CD now, by clicking here: http://www.developingparadisecd.com
###