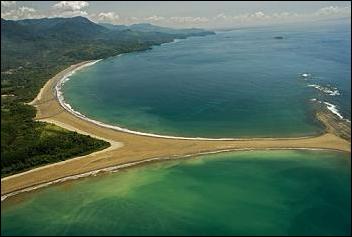 It's quite possibly the most stunning tropical location on planet earth
(PRWEB) April 10, 2007
WeLoveCostaRica.com specializes in researching and then showcasing Costa Rica luxury real estate projects by financially strong, experienced developers with a proven track record of building quality, luxury homes in Costa Rica.
Offering a dramatic and exotic combination of jungle, beach and whale songs which can be found in one special place only - Costa Rica, the luxury, tropical vacation home destination for thousands of Americans reaches a whole new magnificent level.
Canto Ballena which is Spanish for 'whale song' is a new luxury real estate project exclusively for nature lovers. This is where one can actually see the whales give birth, where the shimmering blue Pacific ocean, amazing wildlife, superlative architecture and good taste come together in perfect harmony.
"It's quite possibly the most stunning tropical location on planet earth," said Scott Oliver, author of Costa Rica's #1 book on real estate - 'How To Buy Costa Rica Real Estate Without Losing Your Camisa' which is available on Amazon.com
Adorning Costa Rica's southern Pacific coast, these secluded luxury ocean front homes are in an exclusive gated-community nestled in the heart of the Ballena National Marine Park with the beautiful blue ocean, bountiful wildlife and flawless architecture, all in the best of taste.
Named Canto Ballena in honor of the mystical calls of the humpback whales that winter in these warm protected waters, this secluded luxury community will provide a select few with a level of natural beauty that cannot be found anywhere else in the world.
Just outside, a wonderland awaits. Set out from shore at low tide to snorkel among the anemones and darting, brightly colored tropical fish, or arrange a diving excursion to one of the islands. Miles of golden sugar sand lures each wide-eyed visitor to explore the shoreline, home to many different species of birds, mammals, and reptiles.
The retreating tide reveals a gradually expanding land bridge where one can walk barefoot out to the small island of Punta Uvita Tambolo. Breathing deeply of the soothing salt air, this is an idyllic place to begin a new life, to truly get away from it all and maybe fall in love all over again…
The Canto Ballena luxury homes beachfront homes offer million dollar views with preconstruction prices that range from US$325,000 to US$1.7 million. Some might say this is high priced luxury real estate for Costa Rica however, for a gorgeous, one-of-a-kind location like this? We don't think so.
With the proposed new highway from San Jose to the Pacific Coast, other major infrastructure improvements as well as a new hospital under construction nearby, all this should help make this Costa Rica real estate investment in Canto Ballena a very profitable and enjoyable one.
It should be noted that there is no MLS system in Costa Rica, Spanish is the main language and the legal system is based on Napoleonic Law, not Common Law as it is in the USA so the 7,000+ VIP Members of WeLoveCostaRica.com rely upon the author Scott Oliver to thoroughly research and then introduce them to the best Costa Rica luxury real estate projects built by the most experienced developers.
A free, nine page 'Costa Rica Luxury Real Estate' downloadable brochure is available and dozens of stunning photographs of this unique tropical paradise can be seen by visiting: http://www.welovecostarica.com/public/1415.cfm
Written by Scott Oliver, the author of 'How To Buy Costa Rica Real Estate Without Losing Your Camisa' http://www.welovecostarica.com/public/84.cfm and 'Costa Rica's Guide To Making Money Offshore' http://www.welovecostarica.com/public/500.cfm and the founder of http://www.welovecostarica.com home to over 1,400 free articles and videos about Costa Rica real estate investments and retirement.
###