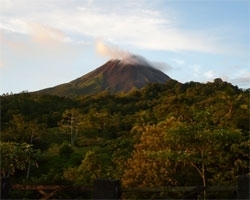 A perfect place for everyone!
San José, Costa Rica (PRWEB) September 10, 2010
Costa Rica Guides shows travelers worldwide the best places to visit in one of the biologically wealthiest nations in the world. While Costa Rica has only about 0.25% of the world's landmass, it contains almost 5% of the world's biodiversity and has the largest percentage of protected areas in the world. Between Costa Rica's Caribbean and Pacific coasts (stretching over 1,300 miles of coastline!), visitors will find green mountains, pristine lakes, majestic volcanoes and dense jungles, and other beautiful settings.
The most attractive destinations in the country include the following:
1. San José City & Surroundings
San José is the capital and the largest city in Costa Rica. Located in the Central Valley, it's a historical but modern city filled with Costa Rican traditions. Due to the fact that the city sits in the center of the country, San José is the perfect place to use as a base camp to tour Costa Rica. Once you've explored the San José, there are plenty of wonderful destinations, only minutes away, on the outskirts of the capital city.
2. Arenal Volcano
The Arenal Volcano area is the perfect spot for nature and adrenaline lovers. As one of the most active volcanoes in the world, Arenal Volcano is a fascinating natural wonder and a must-see destination for many travelers to Costa Rica. The volcano's surroundings are just as impressive and worth visiting, including hot springs, waterfalls, forests, lakes, caves and beautiful traditional towns, such as La Fortuna.
3. Monteverde
Monteverde is a small misty town in Puntarenas and is considered a major tourist destination due to its numerous reserves with naturally impressive rain and cloud forests. It was voted as one of Costa Rica's Seven Wonders, along with Isla del Coco, Tortuguero, Arenal Volcano, Cerro Chirripó, Río Celeste and Poás Volcano.
4. Manuel Antonio Beach
Manuel Antonio is a natural paradise located just south of Quepos on the Pacific Coast. It is a charming combination of rain forest, coral reefs and beaches; it is considered by many to be the most beautiful spot in the country. The Manuel Antonio National Park is Costa Rica's smallest national park, even though is one of the richest in beauty and biodiversity, and one of the main attractions in the area.
5. Tamarindo Beach
Once a sleepy town, Tamarindo is now Guanacaste's largest coastal center, frequented by foreigners from all over the world. It has all the amenities of a Costa Rican beach town – surf, sand, sun and a bustling nightlife. Even though this amazing town has become a Mecca for surfers, Tamarindo is also a favorite for eco-travelers. It is surrounded by National Parks to its north and south, and mountains with abundant nature.
6. Jacó Beach
Jacó is Costa Rica's most visited beach - a top destination for surfers, backpackers, and land-loving resort travelers alike. For those interested in activities such as surfing, horseback riding, hiking, kayaking and sport fishing, Jacó is a great place to do so. There are plenty of tour operators in the area that can arrange your Jacó Beach adventure tours at very reasonable rates.
7. Puerto Viejo & Cahuita
Known for its laidback attitude and Caribbean lifestyle, Puerto Viejo allows visitors to experience Costa Rica's most exotic side. This beautiful beach town has a unique blend of Latin, Afro-Caribbean and Bribri indigenous cultures. Nearby Cahuita National Park and Gandoca-Manzanillo National Wildlife Refuge provides tourists with the opportunity to observe the area's incredible wildlife, both of which are a short distance away.
8. Drake Bay (Corcovado National Park)
Drake Bay is one of the most peaceful and beautiful destinations in Costa Rica. The town, commonly referred to as simply 'Drake', is a tranquil village that offers easy access to Corcovado National Park – known for its natural beauty, diverse wildlife and unique ecology. National Geographic has called it "the most biologically intense place on Earth".
9. Tortuguero
Known as the 'Costa Rica's Amazon', Tortuguero is one of the most important nesting sites in the world for marine turtles – every year, thousands of them come ashore along these world-famous beaches to lay their eggs. Another great feature in the area are the Tortuguero Canals, an extensive system of natural and man-made waterways used both for transportation and jungle exploration.
10. Montezuma
The town of Montezuma began as a remote fishing village and has gained popularity since the 1980's among nature lovers and tourists on a budget. The town features a mix of local residents, foreign backpackers and eco-tourists that come for its stunning beaches, rivers and scenic waterfalls that surround the village. The Cabo Blanco Nature Reserve also attracts a great number of visitors to the area.
About Costa Rica Guides
( http://www.costaricaguides.com )
Costa Rica Guides is an online travel guide that offers information for people traveling to Costa Rica. We are a reliable company dedicated to offering the highest quality of personalized services, with original tourism alternatives in Costa Rica, through customized trips and package tours. Our Costa Rica travel experts will give you professional advice for your trip and will help you plan and organize your Costa Rica vacations – from the hotels' reservations to the tours and activities, everything that will make up your memorable experience. Phone number in the U.S 1-877-281-8515 phone number in Costa Rica 011-506-2257-4171.
###