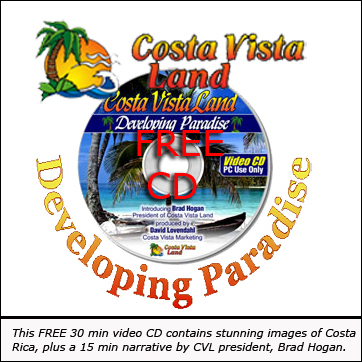 We didn't create paradise, we make it accessible.
Dominical, Costa Rica (PRWEB) March 3, 2007
Paradise Brokers, a leading real estate development and investment company in Latin America, has announced the launch of its new video featuring their 'Bringing Paradise to You'' program. They maintain that Costa Rica property is going to be the next big real estate trend and the video highlights Paradise Brokers' systematic efforts towards growth and development of land investments in the Latin American country.
Through its video, Paradise Brokers provides an abundance of Costa Rica information and introduces investors to the wonders of Costa Rica, from its pristine natural beauty to the country's ever growing economy, which attracts many fortune 500 companies, as well as individual investors.
Paradise Brokers aids investors in the purchase of Costa Rica real estate. A company started by Mr. Nick Halverson, Paradise Brokers provides land for development in many different ways - be it for a small retirement home; a hotel; establishment of businesses small and big alike; or even for simple holding purposes to see if the land appreciates or gains value.
The new Paradise Brokers video is a comprehensive journey into the breathtaking vista of Costa Rica and Cost Rica land for sale with a glimpse into a secure and serene future made easy with Paradie Broker aided real estate investments.
The video portrays Costa Rica as a beautiful country inhabited by genuine caring people and a land of ample economic growth. The advantages of investing in Costa Rica properties through Paradise Brokers include-
· The absence of transference tax of any kind.
· The absence of income tax while living in Costa Rica.
· The advantages of dealing with Fortune 500 companies like Sony, IBM etc. which have a heavy presence in the country.
· Investing in land in the country, which has seen an unprecedented growth in its value for the past 10-12 years.
· Easy to buy land in one of the hottest real estate markets.
· The land that is purchased is far below market value.
· Paradise Brokers offers an easy, exciting and proven investment program in which you can save money while getting ahead of the crowd before the prices get out of control.
Owning Costa Rica land can only take place under the name of a corporation. Paradise Brokers initiates the process by setting up that corporation as well as paying taxes, legal fees and real estate fees, which come up to 5-6%. A property tax of approximately US $350 dollars has to be paid every year. The property is then developed in 12-18 months which means-
· All roads to and from the property are laid.
· Utilities like electricity, gas and water have been setup.
· All other facilities if requested have been provided for.
"Costa Rica is immensely diverse. It provides all the luxuries of a paradise as well as the benefits of enterprise. For nature lovers it has abundant rainforests, large mountain ranges, the ever present ocean, Costa Rica beach properties and out of this world freshwater fishing experiences. It also has, large companies to do business with, as well as an ever growing economy with thousands of new jobs opening up every day due to the CAFTA agreement." says Paradise Brokers COO Nick Halverson. It's a wonderful place to do business and raise your children, profit and also enjoy the quiet life and everything it has to offer,"
About Paradise Brokers
Paradise Brokers (http://www.paradisebrokers.net) is 'developing paradise' in Costa Rica as a full service real estate investment, development and property management company. Whether you are interested in panoramic ocean views, waterfalls, golf course lots, or mountain and river views, Paradise Brokers has it all: financing available. Their four offices provide unparalleled service and accessibility and that's why COO Nick Halverson says, "We didn't create paradise, we make it accessible." Paradise Brokers' lucrative program has a 100% money back guarantee and they will arrange all your travel, lodging, and excursions. For a limited time, get a $1,500 reimbursement upon visiting your new property.
For more information call 1-877-CRLand1, (275-2631). Grab your FREE 40 minute DVD and the 'Blueprint to Costa Rica Riches' NOW at http://www.developingparadise.com.
###