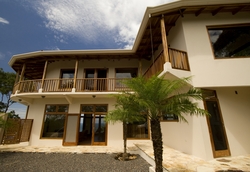 just look for 'Recreo' on TripAdvisor
New York, NY (PRWEB) July 27, 2010
Recreo Costa Rica Resort (http://www.recreocostarica.com) located in the Guanacaste Province of Costa Rica, near the Liberia International Airport, has announced two new strategic partnerships. The first with telephone giant AT&T and the second with Internet giant Google.
In a move that is unparalleled by the resorts current competitors, Recreo Costa Rica Villa Resort, a five star resort located near Liberia International airport, has partnered firstly, with AT&T's Interactive division. The Costa Rica Resort is placing strategically located advertisements within the search results across the massive AT&T search partners' platform. The new marketing technique has already resulted in telephone inquiries from the advertisements which are paid for on a pay-per-call model, a payment option that is growing in popularity with advertisers and major off-line telephone directory corporations such as AT&T.
Of equal importance to the above, is the aggressive approach the Costa Rica villa rentals property has taken by utilizing the power of the Google Display Network. The resorts management produced six videos specifically for the search giants' platform. To bring the process full-circle, the villa resort turned to Google's latest partner YouTube, by creating the "Recreo Costa Rica YouTube Channel" and adding the six videos of the luxurious Costa Rica Resort. The Costa Rica resort is now able to seamlessly pull videos from their YouTube Channel and upload videos directly into the Google Networks Platform. Recreo is displaying their videos across the Google Network on a cost-per-view basis, another payment option that is popular as the platform offers unlimited impressions.
Paul Pawlowski, CEO of Recess LLC, stated, "It was a fast, simple and obvious decision to strategically partner with AT&T and Google." Mr. Pawlowski, continued, "Both have supported us in one way or another since Recreo's inception so why should now be different." Mr. Pawlowski', sentiments are driven by the Resort currently witnessing terrific successes via the Internet, with TripAdvisor being one of the best examples; currently, Recreo ranks number five out of a possible one hundred and seventy choices for hotels in the Guanacaste region of Costa Rica, with results driven by guests' "reviews" on TripAdvisor. Recreo Costa Rica Resort boasts a 95% overall approval rating as of this writing.
The Costa Rica Resort is additionally set apart by having multiple first page positioning on Google, Bing, Yahoo and now YouTube against various relevant search terms. Mr. Pawlowski, summarized with, "Recreo follows the policies, rules, and terms of our strategic partners, in-turn we're rewarded with new visitors and the opportunity to showcase our luxury villa resort in Costa Rica, moreover everybody loves our resort, just look for "Recreo" on TripAdvisor".
This news release issued by Recreo Costa Rica Resorts, Copyright 2010 - Recreo, LLC.
# # #