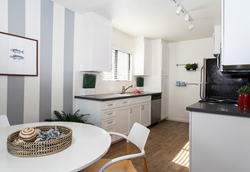 "Apartment residents want a fulfilling home experience in a community that fits their lifestyle and aesthetics. The Village at South Coast delivers that."
(PRWEB) June 01, 2016
Orange County residents will notice a new landmark on Paularino Drive as they drive or bike home from The Lab, Metro Pointe at South Coast, or South Coast Plaza. Woodland Village Apartments, just off Bear Street, is now called The Village at South Coast. New signage will be installed this week as the final step in a renovation that has been quietly transforming the apartment community over the last few years.
"The new name was chosen to highlight the warm community feeling and vibrant location of the property," said Sara D'Elia of The REMM Group. The Tustin-based property management company has been in charge of the renovation. "Our goal was to transform Woodland Village from a dated property which no longer accommodated resident's needs, to a premium community with a relaxed environment in the center of the upbeat south coast area of Orange County," said D'Elia.
The upgrades to the apartment interiors include beech wood flooring, stainless steel appliances, quartz counter tops, shaker style cabinetry, six panel doors, and installation of dedicated electrical circuits for the new overhead microwaves. Exterior renovations included garage restoration, curb and gutter installation, new siding and paint, adding barbecue islands, and pool beautification.
"Residents don't look at an apartment as a stepping stone to home-ownership any longer. They look for a community that fits their lifestyle and aesthetics. They want a fulfilling home experience without the burden of ownership. The Village at South Coast is designed for that resident."
The Village at South Coast features studio, one, or two bedroom floor plans, two resort style swimming pools and spas, large enclosed garages, private patios and balconies, lush landscaping, and close proximity to world-class shopping centers and beaches.
The Village at South Coast is located at 845 Paularino Ave in Costa Mesa, CA 92626. Studio apartments rent for $1,470, one bedroom units for $1,665, and two bedroom units for $1,995. For more information about the apartments call 714-754-0081 or visit The Village at South Coast.