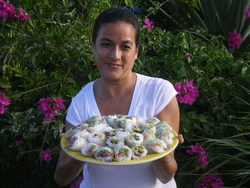 Quepos, Costa Rica (PRWEB) October 14, 2009
Villas Tranquilas, a Costa Rica Vacation Rental, recently launched a new line of in-house regionally inspired meals for their guests. Villas, a six acre rainforest retreat, partners up with the area's most progressive chefs just in time for the upcoming holiday season. Now visitor's headed to Manuel Antonio and Quepos can delight in these Quepoa inspired offerings from Chef Diego Chavez of Mango Moon and Desiree Brassert.
The daily menu includes:
La Sopa del Rey: Costa Rican black bean soup served with sour cream and salsa fresca
Quepoa Ceviche: Locally caught fish, shrimp, and mussels marinated in lime juice, olive oil & spices
Mango Salad: Lettuce cups of tomato, cucumber, avocado, heart of palm, and mango
Fresh Filet of Conger: Prepared traditionally with lemon and butter
Diners can create their custom plate or even design a catered dinner for specific palates. This season a new continental breakfast is also available including fresh fruit juices, sweet breads, and seasonal fruits such as anona, breadfruit, caimitos, cashew fruit, granadilla, and guana banana. Come winter, when sun seekers head to Quepos Costa Rica, Villas Tranquilas new locally inspired menus are sure to be a magnet for travelers searching for a simple culinary twist in the comfort of their home-away-from-home.
Villas Tranquilas: offers travelers modern Costa Rica Vacations in Quepos ,Costa Rica. The six acre rainforest property is nestled between the Pacific coastline and the fertile Puntarenas valley. Villas Tranquilas strives for sustainable hospitality, supports local farmers, and partners with conservation groups like the Mono Titi Alliance. For more information visit Villas Tranquilas online.
###