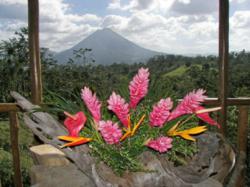 This place is truly one of a kind. I've been lucky enough to spend an unforgettable time there. We will enjoy helping this Costa Rica resort grow
Atlanta, GA (PRWEB) November 19, 2011
Vayu Media was selected by Leaves & Lizards a unique Costa Rica resort to grow their web presence in the United States.
A visit to Volcan Arenal is the quintessential Costa Rica volcano experience. The black conical shape rises imposingly from pristine primary rainforest. Leaves & Lizards offers one of the most unique experiences among Costa Rica resorts. Guests can imagine themselves rocking gently in a hammock on the porch their private cabin enjoying the best view of Arenal, sipping a tropical drink while listening to Howler monkeys complain about the afternoon rain. As the sun sets, the smoking boulders that roll down the steep slopes of Arenal become firey red, creating a magnificent fireworks display, compliments of Mother Nature. The vision at Leaves and Lizards is to create a perfect blend of Adventure, Discovery and Tranquility for each guest.
"This place is truly one of a kind. I've been lucky enough to spend an unforgettable time there. We will enjoy helping this Costa Rica resort grow" said Jennifer Dunphy, VP of Marketing.
Vayu Media's seo services have delivered growth to companies nationwide. The search engine marketing firm develops strategies that deliver consistent web rankings and a return on investment. The firm is serving clients in various industries including retail, hospitality, technology, healthcare and eCommerce.
For additional information regarding hospitality and travel marketing or to contact Leaves & Lizards resort please contact Vayu Media's PR department.
###