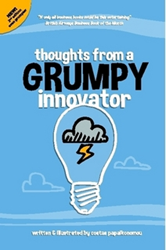 NEW YORK (PRWEB) September 09, 2014
Costas Papaikonomou – co-founder of Happen.com – shares 15 years of diverse corporate and agency innovation roles in his new book, "Thoughts From A Grumpy Innovator" (published by Lulu).
"Over 90% of mass market innovation fails and mostly for the wrong reasons," Papaikonomou says. "It struck me there isn't a 'business book' out there that really acknowledges this, and the literature that does exist is either academic, fluffy or outright ignorant on how business works."
"Thoughts From A Grumpy Innovator" addresses the paradox that exists between benefiting from a frantic and ever-changing world that continuously generates new opportunities and the need for a calm and unchanging world that makes running a business predictable and profitable. It contains a collection of polemic chapters, witty one-liners and funny cartoons about the ugly reality of creating innovative products and services for global mass markets.
"It is very different in tone from typical business books aimed at blue chip managers," Papaikonomou says. "This one will either make you cry or laugh out loud in recognition of the systemic failures and situations described."
"Thoughts From A Grumpy Innovator"
By Costas Papaikonomou
Softcover | 4.25 in x 6.87 in | ISBN 978-90-818800-3-9
Available at Amazon
About the Author
Costas Papaikonomou is one of the founders of the global innovation agency Happen.com and has spent over 15 years working across the globe in many areas of innovation, ranging from strategy to design to commercialization and manufacturing. He has continuously pursued the balance between technology, consumer need and business relevance, driving for the innovative leap to achieve all three.
Lulu empowers people of all ages to explore and express their interests, passions and expertise through books, photography and art. Since introducing self-publishing in 2002, Lulu has empowered creators in more than 225 countries and territories to produce nearly two million publications. Lulu Jr. allows children to become published authors, encouraging creativity, strengthening literacy and building self-esteem. Picture.com offers professional photography of collegiate and professional sports, memorable and historic events, fine art and home décor. For more information, please visit lulu.com.