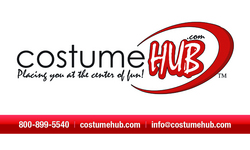 "Placing you at the center of FUN!"
Prairie Village, Kansas (PRWEB) September 22, 2010
CostumeHub announces a national campaign to raise money for local schools while helping consumers save money.
When most people think of a season for giving back to their community, Halloween isn't at the top of their list. But CostumeHub.com seeks to change that perception by introducing its Costumes for Cash campaign: a program that allows schools to raise money, parents to save money, and kids to enjoy trick-or-treating.
Participating in the program is simple: schools can register with CostumeHub and obtain a unique code, which the school will then distribute to parents, teachers, and community members. When placing an order at CostumeHub.com, these customers will automatically receive 15% off their entire order. On top of this discount, the school affiliated with the code will receive a contribution from Costume Hub for 15% of the value of all purchases made using that code!
CostumeHub is one of the largest online retailers for Halloween costumes and accessories. This season's collection includes the latest costume characters and trends as well as classic Halloween costumes. From children's sizes to plus-sized costumes, everyone can find the perfect outfit at one convenient source - all while giving back to their local community. To view all of the costumes and accessories, or to sign up for the Costumes for Cash program, visit the CostumeHub homepage at: http://www.costumehub.com.
To receive more information about the Costumes for Cash program or register your school, visit CostumeHub.com.
About CostumeHub
Founded in 1991, Costume Hub is an online retailer specializing in costumes for adults, children and pets. Owned an operated in Kansas City, all of their fast, friendly customer service is local and never outsourced.
###