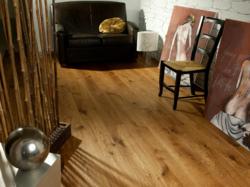 "The new flooring collection is all about bringing nature's own patterns and designs into the modern living space"
Mississauga, Ontario (PRWEB) December 14, 2011
Coswick Hardwood Inc has just launched a new collection of hardwood flooring prefinished with innovative Eco Silk oil and Eco Silk wax. Both finishes are environmentally friendly products that are derived from mostly natural ingredients, including seed oil. These products provide a way to enjoy the beauty and durability of hardwood flooring without the harmful toxins of more traditional finishes.
"With this collection, we wanted to emphasize that hardwood can and should be an eco-friendly flooring solution. Eco flooring addresses a real need for natural flooring products that are both affordable and environmentally safe," stated Vladimir Ianovski, founder of Coswick Hardwood Inc.
Coswick adheres to strict practices at all stages of the hardwood flooring manufacturing process. Coswick raw lumber comes as a result of selective cutting from local sustainable forests; 100% of wood residue and sawdust that is generated in production, is recycled. Coswick lacquer and oil prefinished flooring contains no harmful VOC emissions, while all glues used in production of engineered flooring are formaldehyde free.
The new eco-friendly flooring collection takes its name from Arts & Crafts designer movement that emerged in Europe at the turn of 20th century. The advocates of the Movement preferred simple forms, natural concepts and styles of decoration. "The new flooring collection is all about bringing nature's own patterns and designs into the modern living space," stated Mr. Ianovski
The new Eco Silk Oil finish protects hardwood flooring by "soaking" the wood fibres, protecting them from grit, dirt, and moisture. Eco Silk Wax forms a transparent, water-repellent elastic film over the floor surface, sealing the wood pours from damage by the elements. The new flooring collection has a wide plank and fixed length of 7 ½"x 7' and is available as 3-layer CosLoc 5G single strip engineered flooring. Coswick floors with eco-friendly finishes have superior dimensional stability and ability to withstand seasonal humidity and temperature fluctuations.
Arts & Crafts flooring is now available from authorized Coswick dealers across North America and Europe.
###