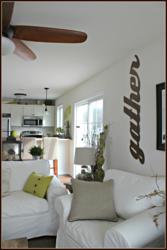 "It's better, not bigger," says Jane Winninger who owns a yellow, three-story cottage on the Illinois Riverfront in Heritage Harbor.
Ottawa, IL (PRWEB) February 18, 2013
It's possible to live and vacation comfortably without an excess of empty space and high ceilings. Illinois's premier waterfront resort Heritage Harbor Ottawa is proving that and more with its Cottage's at Heron's Landing development.
"It's better, not bigger," says Jane Winninger who owns a yellow, three-story cottage on the Illinois Riverfront in Heritage Harbor.
"It's a mind shift in what people are used to. Lots of people think just because something is big, it's better, but it may not be comfortable or easy-to-maintain. It may not have that homey feel or a relaxed front porch. It may not be an easy place to vacation and live. But here in our cottage, it's our space and it's designed perfectly for our needs."
Winninger has taken pleasure in getting the design of her Heritage Harbor cottage just right.
"I can't believe how warm and homey our cottage is starting to feel," Winninger said while touring her cottage living room, standing near a large art piece emphasizing the phrase "gather."
"Since being here, we've never had a need for more space because the size is perfect. It's actually amazing how much space there is while maintaining the integrity of cottage living. Honestly, time spent here makes us more conscious, more peaceful. It's definitely that 'less is more' philosophy."
The Cottage's at Heron's Landing are just one of Heritage Harbor Ottawa's latest real estate developments, but it's the one that's been getting the most Midwest buzz.
The cottages are waterfront Cape Cod-style retreats sitting on an enclave of the Illinois Waterway. Partnering with Homeway Homes on the project, Heritage Harbor is offering various cottage floor plans so everyone looking to settle in one of the cozy cottages can have it designed to perfection.
The vacation cottage movement has been gaining popularity, similar to the industry's Not So Big House movement. Recent economic factors have been causing families and homeowners to struggle with vacation home upkeep costs, cleaning bills for those double-height ceilings and more. Not to mention, hundreds of thousands of McMansions are falling into foreclosure. It's no surprise that people are looking to build and buy smaller — and find more value in their space.
The Cottages at Heron's Landing feature three unique floor plans with prices starting in the mid-$100,000s. The Energy Star™-rated home designs have been created to utilize sustainable and energy-efficient components. Also, the Cottages at Heron's Landing offer a generous rental policy, allowing cottage owners to rent their cottage to resort guests if the owner desires.
"It doesn't feel like you're staying in a hotel," Rich Bridges of Heritage Harbor says of renting one of the stylish cottages. "You kick off your shoes on the porch and you're at your place. All of the comforts of home are there. Then, it's just a short stroll to the river."
For more information or to take a tour of the Cottages at Heron's Landing, contact Tammy Barry of Heritage Harbor Ottawa at 815-433-5000. A slideshow of the resort can also be seen on its YouTube channel, here.