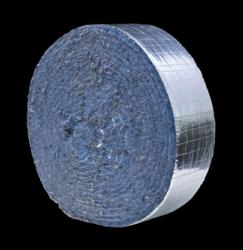 Our customers get the advantages of 21st century energy conservation along with the epitome of environmental protection.
Webberville, MI (PRWEB) March 30, 2012
Due to increasing demand for environmentally sustainable acoustical and energy saving building products, Applegate Insulation is pleased to announce foil-backed duct and pipe wrap to their growing Mr. Insulate Cotton Armor line of cotton insulations and acoustical panels. Made from 85% recycled content, Cotton Armor pipe and duct wraps provide an eco-friendly solution for sweating pipes and heat loss from air-ducts and water pipes.
According to Terry Applegate, CEO of Applegate Insulation, the new Cotton Armor insulations provide numerous advantages over traditional fiberglass and foam products. "While many companies are experimenting with new and untested man-made products, we have decided to go back to the future, using man's first fiber friend, cotton, as our insulating material. Because cotton is a natural and rapidly renewable resource containing no hazardous chemicals or petroleum based binders, our customers get the advantages of 21st century energy conservation along with the epitome of environmental protection."
Unlike traditional fiberglass, cotton will not cause irritation or itching that is associated with fiberglass as it doesn't contain or release glass fibers and its flexibility makes it easy to wrap, which can reduce installation time. The natural advantages of Cotton Armor allow environmentally concerned contractors and building owners to protect their buildings and energy dollars in a manner that satisfies their green conscience. An added benefit of Cotton Armor is sound suppression. The natural sound attenuating properties of cotton make Cotton Armor duct and pipe wraps an ideal material for those looking to quiet noisy ducts and pipes.
According to the Department of Energy (DOE), "...uninsulated or poorly insulated ducts in unconditioned spaces can lose through conduction 10%–30% of the energy used to heat and cool your home." Cotton Armor foil-backed duct wrap is optimized for quick external installation on commercial and residential heating and air conditioning ducts, and is suitable for rectangular or circular ducts where temperature and moisture control is needed for an energy efficient building.
The DOE also states, "Insulating your hot water pipes reduces heat loss and can raise water temperature 2ºF–4ºF hotter than uninsulated pipes can deliver, allowing for a lower water temperature setting. You also won't have to wait as long for hot water when you turn on a faucet or showerhead, which helps conserve water." Cotton Armor foil-backed pipe wrap is optimized for residential pipes, maximizing thermal control for hot water pipes and condensation control for cold water pipes.
Established in 1978, Aaron and his son Terry Applegate began manufacturing cellulose insulation out of a small facility in Okemos, Michigan. Today, Applegate headquartered in Webberville Michigan, is the largest privately owned cellulose insulation manufacturer in the world, and supplies a variety of insulation products throughout the United States. Applegate currently operates facilities in Michigan, Wisconsin, Pennsylvania, Kentucky, Georgia, Louisiana, and Colorado. For additional information about Applegate please visit http://www.applegateinsulation.com. To learn more about Mr. Insulate Cotton Armor foil-backed wraps, thermal and acoustical blanket insulations or sound panels please visit http://www.mrinsulate.net or call (855) 6-COTTON.
For editorial interviews, additional information, testimonials, photographs, and industry specs please contact: Dave Renbarger, 855-6-COTTON email< mrinsulate(at)mrinsulate(dot)net