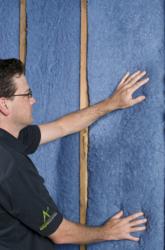 With the use of this cotton insulation, we're moving toward a supply cycle rather than a supply chain," says Houston. "The decision to use a product like this was a no-brainer."
Webberville, MI (PRWEB) September 28, 2012
Applegate Insulation and DIRTT (Doing It Right This Time), have partnered to reduce DIRTTs' environmental impact through the use of Cotton Armor insulation and crafting an integrated supply cycle. DIRTT uses Cotton Armor in making custom modular building solutions that offer previously unimagined construction speed, design, performance and environmental sustainability for built environments.
DIRTT's Director of Operations and Sustainability, Houston Peschl, was searching for a sustainable alternative to fiberglass for DIRTT's manufacturing process when he heard about Cotton Armor. "Fiberglass was the bane of my existence," says Houston. "Even though DIRTT used the most amazing fiberglass out there, it still ended up in a landfill because no one recycles it."
Combining man's first fiber friend, Cotton, with revolutionary 21st century BurnBarrier and fiber processing technology makes Cotton Armor the world's foremost energy saving hybrid. Cotton Armor out-performs typical fiberglass in the areas of acoustical properties, flame spread, off-gassing and it doesn't contain harmful chemicals or irritants. Insulation scraps left over from DIRTT's manufacturing process will be collected and sent back to Applegate for reuse, leaving a zero-waste stream.
"With the use of this cotton insulation, we're moving toward a supply cycle rather than a supply chain," says Houston. "The decision to use a product like this was a no-brainer. And now our installation guys don't have to go home itchy every day, we don't have to throw out scraps on a daily basis, and we save money."
According to Terry Applegate, CEO of Applegate Insulation, "It is a great pleasure to be able to supply emerging green industrial leaders with materials that allow them to meet their conscious driven sustainability requirements. These exciting companies, DIRTT and BluePoint Marketing being prime examples, are extremely conscious of energy efficiency and environmental sustainability, they think like we do and consequently it is a lot of fun partnering with them! We pride ourselves on being able to closely work with users to make sure that no detail gets left behind while at the same time maximizing productivity and reducing waste. That pride springs from our history as a small HVAC company in the 50's; so we have a personal history knowing the difference that a supplier makes by partnering with their users in developing state-of-the-art energy efficient products and systems."
Cotton Armor is a high performance acoustical and thermal insulation that can be custom tailored for a wide range of applications. Cotton Armor provides a wide range of R-values, provides STC's into the 60s, is made with a minimum of 85% recycled content and the final product contains cotton fiber — a rapidly renewable resource. In a Life Cycle Analysis, Cotton Armor was found to be 54% more energy efficient in production than fiberglass. This is due to the use of recycled renewable resources, and application of modern, energy-efficient electrical equipment, rather than the blast furnaces utilized in fiberglass manufacturing. Cotton Armor production was also found to result in less than 53% CO2 equivalent (Kilograms of CO2 and other gasses) and 29% less water than fiberglass manufacturing.
More information on Cotton Armor and Applegate's commitment to sustainability, including the life cycle analysis, is available at http://www.applegatecottonarmor.com.
About Applegate Insulation
Applegate was established in 1978 by Aaron Applegate and his son Terry. They began producing insulation out of a small facility in Okemos, Michigan. Today, Applegate (headquartered in Webberville, Michigan) is the largest privately owned cellulose insulation manufacturer in the world, and supplies a variety of high performance insulation products from seven locations throughout the United States. Applegate launched Cotton Armor in 2011 in order to rectify many issues of yesteryear's batt technology. Cotton Armor blankets are easier to properly size and install than batts and in a life cycle analysis demonstrated a radical improvement in resource utilization by being 54% more energy efficient in production than fiberglass manufacturing. To learn more about Applegate please visit http://www.applegateinsulation.com. To learn more about Cotton Armor please visit http://www.applegatecottonarmor.com or call (855) 626-8866.
About DIRTT — 'Doing It Right This Time.'
DIRTT Environmental Solutions creates unique interiors with responsive, agile architectural solutions. DIRTT's package of solutions includes DIRTT Walls, DIRTT Power, DIRTT Networks, DIRTT Millwork and ICE® software. Self-expression and dynamic sustainability combine to produce customized, productive spaces that are award winning, sustainable, long-term assets. DIRTT uses real-time, interactive 3D software called ICE®, a software application for a fluid flow of information from design and point-of-sale to the manufacturing floor. ICE is completely interoperable with the industry standard AutoCAD TM. DIRTT has manufacturing facilities in Calgary, Alberta (headquarters); Savannah, GA; and Phoenix, AZ. DIRTT was founded in 2004, with sales starting in May 2005. http://www.dirtt.net
About BluePoint Marketing
BluePoint Marketing was established in 2009 by Paul Rydell, and takes pre-consumer cotton from manufacturers to regenerate and reinvent the cotton articles for buildings, homes, and textiles. In 2009, BluePoint Marketing was awarded with an International Hotel/Motel & Restaurant Show (IH/MR&S) award for "Green Luxury". Among the customers who have partnered with BluePoint and our recycled cotton technology are The New York Yankees, Whole Foods Inc., UNFI Distributors and Costco to name a few.
###
For editorial interviews, additional information, photographs, and or industry specs regarding Applegate insulations please contact: Tom VanAlstine at 800-627-7536 or email askus(at)applegateinsulation(dot)com.