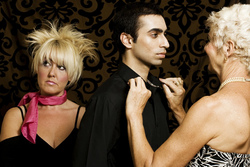 I've always thought beauty increases with age
Beverly Hills, CA (PRWEB) April 20, 2010
Cougarism has finally made it into the mainstream. A few years ago "Cougar Dating" was unheard of, and a younger man dating an older woman, seen simply as a toyboy looking to be maintained by a wealthy woman – think Ivana Trump or Joan Collins!
With the launch of Courtney Cox's new sitcom Cougar Town, a Wikipedia entry and continued interest in Cougar dating, this is one trend which shows no sign of taking a back seat. Have times really changed or is society's fascination with older women dating younger men simply a misunderstanding of an age old trend?
Age-gap experts at http://www.goCougar.com confirm "Since 2001 we've been providing a much needed community for Cougars and Cubs. The older woman -younger man relationship is as old as time and we provide a safe, secure and fun place to discover and nurture those relationships.
Interestingly, there are FOUR times as many male members as women on this close knit community – a ratio which should really silence the critics. Surely, it's possible that these men genuinely and sincerely prefer the company of older women!
Delve deeper into the site and the blogs really bring an insight into Cougar World, women proud to be called Cougars and men who are genuinely interested in dating older women, rather than being a kept man. goCougar and its sister site http://www.AgelessLove.com are more than just dating sites. Set up as an experimental venture to counter Sugar Daddy sites, the goCougar community has now blossomed into a platform for discussion, support and advice. It's little wonder, the site has inspired long term relationships and now an award winning Italian book "La Coguara Urbana" (the Urban Cougar) by a member Laura Lorenzo Sciolla. The novel explores Cougarism, something not so well known in Italy, centering on experienced American Cougars with their well honed hunting tips and the clumsy inexperienced main character Silvana who cannot walk on high heels and always wears very thick sweaters. But she has other weapons… and love will come to her.
Readers will find the novel full of wit and irony, an endearing tale which won Laura the first prize in the Italian competition "What Women Write."
The fact is that Cougar relationships will always turn heads. It's enlightening to see them conceive novels and take on the central theme for tv shows. Such outlets can only help challenge social misconceptions and inspire more women, if the 4:1 ration on goCougar is anything to go by, there are, after all, plenty of men looking to be caught!
"I've always thought beauty increases with age" Andreas Kronthaler, the husband of British designer Vivienne Westwood, 25 year age gap, 16 year marriage.
If you're interested in exploring an age gap cougar relationship then head over to goCougar.com. For a limited time only, Pro Account membership with a wealth of benefits is being offered at a 60% discount. Alternatively, if you just want to check out the scene then register for a FREE account.
###