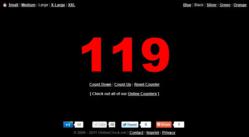 We continue to just have fun, providing people with a wide variety of different online clocks and counters. As long as it's still fun, we'll keep doing it! And keep releasing new online clocks.
(PRWEB) September 14, 2011
OnlineClock.net or "Online Clock," as it is usually referred to, is an extremely popular website that can be used as an alarm clock or for online reminders. Additionally, the site offers free clocks and timers for just about every purpose. This novel idea that Online Clock has fashioned, and put into action five years ago, is to create a series of free online clocks for everything from keeping score, to timing the perfect three minute egg, to waking yourself up in the morning. One of the greatest things about the website is that all the clocks and timers are in one place. There is no need to surf all over the net to find an online clock or a timer; it's all centrally located on a single website.
There are many uses that the new Online Counter can provide. The uses are limited only to one's imagination. One of the uses can be for carbohydrate or calorie counting. Scores of people wake up every day and wonder why the waistbands of their pants have gotten so tight that they are cutting off their blood circulation. The Online Counter can prove to be a valuable counting device for those who want to lighten-up a bit. Entering in the number of calories or carbohydrates they wish to consume each day would be very beneficial to the weight conscious. Since the counter can go in reverse, after each meal the user can subtract the number of carbohydrates or calories they have consumed from a preset number entered by the user. At the end of the day, they will see how much is left for snacking, or in the case of over consumption, they can stop eating so that they can breathe after fastening their pants in the morning. The Online Counter is really great for this use because once the number is entered into the counter, users can return to the website at a later time, and the counter will be at the same number as when it was last used. Essentially, this means everyone can use it whether they are at home or at work.
Mr. Tom Churm, creator and owner of OnlineClock.net, has stated: "I continue to brainstorm regarding thinking of every possible reason to use a clock or timer that might be useful for our audience." The Online Counter is only one of many future additions he has planned for Online Clock. His website is not only free of charge, but it's free of clutter, is non-invasive to its users, and it also includes weekly blog posts on subjects involving anything interesting related to the subjects of time, clocks and timers.
The new Online Counter can be of great assistance to small businesses as well. If small business operators are wondering how many patrons have entered their store, they can use the Online Counter to tally the number of patrons. If a comparison of sales vs. number of patrons is needed, the Online Counter is exactly the tool to use. Later, inferences can be made in order to improve their sales. For instance, if the counter is used to track the number of people coming into the store for two months, and then the business owner compares this number to the number of people who actually purchased something in each of those months, a significant difference may be seen. This can be very helpful when analyzing revenue trends.
Not content creating just a single counter, Online Clock has released several different versions, including an Online Counter that counts up or down using words instead of numerals, an online counter that counts using Roman Numerals, and even an entertainingly absurd version that counts in Pig Latin. Mr. Churm says, "We continue to just have fun, providing people with a wide variety of different online clocks and counters. As long as it's still fun, we'll keep doing it! And keep releasing new online clocks".
OnlineClock.net is full of fun ideas for ways in which you can use their clocks and timers, such as: The Doomsday Countdown Clock, which is a countdown to the unfounded fear that the world is ending in 2012, the Flipped Text Word Clock, which is used by a lot of teens who love upside-down text to communicate with one another, and the Morse Code Alarm Clock that has dots and dashes displayed on the clock's face.
The Online Clock website is designed on a black background so that the clocks and any words written on the site are easily distinguishable. There is no confusion, and clarity of design is important. Mr. Churm is very proud to guarantee that users of his website can use the site completely, without having to create an account with their email address, and without being asked for any unnecessary personal information. He is very adamant about keeping user information private, preserving the integrity of the website while, at the same time, creating many useful and novel features.
The OnlineClock.net website is arguably the most popular alarm clock website, having approximately 2.5 million unique visitors each month. This is not only due to the fun things incorporated into the site, but it's also a result of the aforementioned simplicity of design and centralization of so many different and precise clock types, all under one roof.
What will Mr. Churm think of next, as the next addition to the Online Clock website? Who knows, but everyone can be sure of one thing: it will be both useful and fun. You can count on that!
About OnlineClock
Online since March 24th, 2006, Online Clock, the Online Alarm Clock was the world's first online alarm clock website. Online Clock strives to be the number one network for the simplest, most useful and best Online Clocks, Timers and Time Tools. For more information on the various online alarm clocks offered for free by OnlineClock, please visit http://onlineclock.net/about/.
###