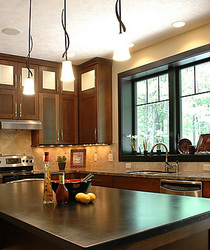 Calimesa, CA (Vocus) October 23, 2009
Concrete countertops continue to offer new options for consumers looking for alternatives to typical countertop materials like tile, granite and others. Concrete-Countertops.org has outlined concrete's ability to perform as a practical countertop material by looking at five keys factors: stain, heat and scratch resistance, susceptibility to cracking, and maintenance.
Covering each topic in detail, the site offers consumers information that can be used to compare concrete countertops with other popular countertop materials. Sealers play a major role in countertop performance. Stain and heat resistance are found to be heavily dependent upon the type of sealer used on the finished top. In regards to scratches, sealers can be damaged by cutting directly on them. The site offers helpful tips to avoid any damage to countertops.
Because cracks are inevitable with concrete, the site reveals common causes of cracks and gives tips on how to prevent them. Lastly, the site offers simple guidelines on how to care for and maintain concrete counters.
Being that each concrete countertop is made to order, several of the factors above will be heavily dependent upon the contractor building the product. By taking a few preliminary precautions, concrete can be one of the most durable surfaces for countertops.
Read more about concrete countertops at Concrete-Countertops.org.
Concrete-Countertops.org was created to guide homeowners and provide them with the proper tools and knowledge to create a custom concrete countertop that is an extension of an already existing living space. One of concrete's most alluring features is that it is an artisan's craft.
Concrete-Countertops.org also brings together consumers and local concrete contractors by pointing to a nationwide contractor directory. Consumers can use the site to learn about concrete countertops, choose photos of designs they like, and then access the directory for contact information for concrete countertop contractors in their local area.
Photos courtesy of Hard Topix in Jenison, MI.
# # #