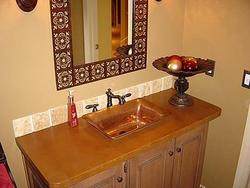 Calimesa, CA (Vocus) October 29, 2009 –-
There's no question that concrete countertops increasingly continue to weave their way into homes across the country. ConcreteNetwork.com explores the five most common uses for concrete countertops at home, from interior living areas to outside entertaining areas. The site features new articles on countertop designs, ideas, photos and more for the home.
The top five areas homeowners incorporate concrete countertops are:
1. Kitchen countertops
2. Bar counters
3. Bathroom countertops
4. Table tops
5. Outdoor kitchens
ConcreteNetwork.com takes a deeper look at each of these and offers design tips, methods for adding color, options for customizing edge details, and incorporating decorative embeds like colored glass and keepsakes, and much more.
Countertops made from concrete are so versatile and customizable that more homeowners and designers prefer them to the more engineered looks of tile and quartz. Hundreds of colors and designs can be customized to fit a home's existing décor or homeowner's imagination.
Visit The Concrete Network photo gallery to view hundreds of projects featuring these five types of residential countertops.
Established in 1999, The Concrete Network's purpose is to educate consumers, builders, and contractors on popular decorative techniques and applications. These include stamped concrete, stained concrete floors, concrete countertops, polished concrete, and much more. Over 10 million people visit ConcreteNetwork.com per year to research, get ideas and to find a contractor.
The site excels at connecting buyers with local contractors in their area through its Find a Concrete Contractor service. The service provides visitors with a list of decorative concrete contractors throughout the U.S. and Canada, and is fully searchable by more than 20 types of decorative concrete work in over 200 regional areas throughout North America.
Article photo courtesy of Liquid Stone Designs in Lenexa, KS. Attached photo courtesy of Flying Turtle Cast Concrete in Modesto, CA.
###