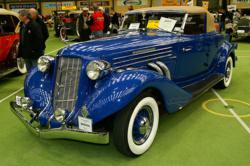 The key point is treating each vehicle like a 'client' – choose them wisely based on what they can offer you. Then, stay financially conservative in the ways you can improve them.
Los Angeles, CA (PRWEB) June 04, 2013
Few consider a car purchase to be an investment today since automobile depreciation occurs so rapidly. For example, a brand new Nissan 370z would lose $2,559 in value in a single minute just by being driven off the dealer's lot, according to Edmunds. Even so, personal finance website GoBankingRates.com finds flipping cars for a profit is indeed possible and explains how to do so (with some help from History Channel's new hit show, Counting Cars) in their newest report.
GoBankingRates investigated the strategies used by Counting Cars host Danny "Count" Koker to flip cars for a profit, identifying four specific tips viewers can follow if they wish to attempt the same.
1. Stay financially realistic.
GoBankingRates expert contributor and lead investigator on the report, Paul Sisolak, recounts a recent Counting Cars episode in which Koker acquires the shell of an old Chevy K5 Blazer for just $1,200. Fully restored, the same model could fetch dozens— if not a hundred — times the buying amount.
For car buyers on a budget, Sisolak explains one of the show's most important lessons is that it is crucial to avoid spending a majority of one's budget on buying a vehicle, as the restoration requires a large bulk of the funds.
2. Choose vehicles in good condition, with good resale value.
The GoBankingRates report finds the next important point emphasized in Counting Cars is that finding the right car is key in flipping it successfully, relaying Koker's advice that, "The car has to be in a certain level of condition, where you don't have to spend a gazillion dollars to make it worthwhile, because at that point, you have lost. The key is finding the right vehicle."
No matter how well the vehicle is restored, without a market for it, the investment turns into wasted dollars. "Think about how your investment will pay off. If you're thinking of throwing thousands of dollars into a car restoration, make sure it's a popular model that someone will actually want to buy from you," Sisolak says.
See the full guide to flipping cars for a profit here: http://www.gobankingrates.com/auto-loans/counting-cars-history-channel-teach-how-to-flipping-cars-for-profit/
Sisolak explains that car buyers who want to implement Koker's strategies remember that car flipping can be anything from a secondary income to a full-time gig. "The key point is treating each vehicle like a 'client' – choose them wisely based on what they can offer you. Then, stay financially conservative in the ways you can improve them," he advises.
For questions about this report or to speak with a GoBankingRates editor, please use the contact information below.
About GoBankingRates
GoBankingRates.com is a national website dedicated to connecting readers with the best interest rates on financial services nationwide, as well as informative personal finance content, news and tools. GoBankingRates collects interest rate information from more than 4,000 U.S. banks and credit unions, making it the only online rates aggregator with the ability to provide the most comprehensive and authentic local interest rate information.
Contact:
Jaime Catmull, Director of Public Relations
GoBankingRates.com
JaimeC(@)GoBankingRates(dot)com
310.297.9233 x261
###
Source: Edmunds.com, Depreciation Infographic: How Fast Does My New Car Lose Value?, September 24, 2010.