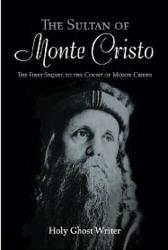 After 168 years, a ghost writer emerges in the spirit of Dumas' greatest creation to write a sequel worthy of his own pen. The Sultan of Monte Cristo 'is truly a brilliant piece of living art.'
Paris, France (PRWEB) July 26, 2012
A mysterious author, known as The Holy Ghost Writer has just released an authentic sequel to Alexandre Dumas' literary classic, The Count of Monte Cristo. The newly revealed sequel, Sultan of Monte Cristo, is ironically released around the same time as Dumas' birthday. Coincidence? The uncanny resemblance or resurrection is what Monte Cristo fans are pondering.
Dumas' brilliant historical novels made him the most universally read of all French novelists, despite controversy over his mixed ethnicity. The remains of Alexandre Dumas were reinterred in Paris to the Patheon by former French President, Jacques Chirac back in 2002, according to BBC World News. Staggering, considering the fact that it took 132 years for him to be honored with burial among France's greatest luminaries such as Victor Hugo and Emile Zola. Dumas' literary work, specifically, The Count of Monte Cristo, sparked widespread interest abroad which translated into over 200 motion pictures and reprinted in almost a hundred different languages. With such popularity, it's no wonder Monte Cristo fans are donning the Sultan of Monte Cristo's author... the Holy Ghost Writer... a reincarnation of Alexandre Dumas.
Sequels, especially book sequels, are often seen as mediocre, conditional on the buying power of their literary success. There are only a few ways to make a sequel "work." It either has to be an immediate continuation of the original work or it has to have higher stakes and bigger conflict. The Sultan of Monte Cristo effortlessly continues the saga of Edmond Dantes and a host of other iconic characters, including Mercedes, Haydee, and the Villeforts. Unanticipated plot twists weave Greek mythology into a French backdrop, and masterfully intertwines themes of lust, love, and deceit. The plot, inherently, battles post-revenge consequences, identity crises, and religious turmoil.
According to rave reviews, the romance, adventure, and mystery encapsulated in this sequel proves to be captivating. One devout Monte Cristo fan, C. Coker, reviewed the book saying,
"I usually have to reread the novel at least once a year, letting myself get swept up in the story of Edmond Dantes and his tale of revenge and betrayal. However, when I get to the end, I am always left wondering what happened next? I finally know with 'The Sultan of Monte Cristo.' Holy Ghost Writer uses the same effortless style that the famed Alexander Dumas used in weaving a tale that captivates and inspires with every word read... It is a fitting sequel to the absolutely stunning classic and is more than worthy of being the sequel to The Count of Monte Cristo!"
Countless readers, over many generations, have found the drama of a man unnecessarily imprisoned all too familiar, making this parallel sequel compelling and relevant, even today. Post-revenge consequences, inner religious turmoil, and identity crises are issues all generations have dealt with.
"I'd often wondered what happened next but had given up on anyone actually bothering to write a legitimate (and decent) sequel. The fact that Holy Ghost Writer has done this is a great achievement," says reader, David Dawson.
Those who have not read Dumas' work have even been enthralled with the Sultan of Monte Cristo. Fisher Breton, an avid reader who was unfamiliar with the Count of Monte Cristo, reluctantly read the sequel after his brother's incessant urging.
"I hadn't read Alexandre Dumas' The Count of Monte Cristo. I didn't really know the original story or plot so I didn't think I'd be able to follow or understand the significance of some of the main characters and situations without that background. I could not have been more mistaken! I was drawn into the intensity and fervor of Edmond Dantes and the incredible cast of characters that populate his world... Its rich, old-world language surprised me, and the fast pacing and constant twists kept me absolutely glued to the pages."
Because of the Sultan of Monte Cristo, he now calls himself a genuine Monte Cristo fan.
In an even more unusual twist, this author has created a unique opportunity for readers to interact with the story. According to Xlibris Publishing Corp, clues are given throughout the series that will lead to the author's true identity. The first person to discover the true identity of the Holy Ghost Writer will achieve national recognition in addition to a $1,000 prize. The next ten readers who discover the author's identity will receive all of the upcoming series in hardback. Subsequently, if no one knows who, or can't figure out who the Holy Ghost Writer is, the author's identity will be revealed in the last book.
Available through Amazon, Barnes and Noble, and Xlibris.