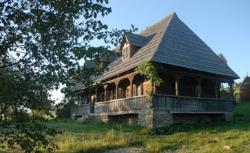 Five years ago, I read a very fine advertisement that read: Today, I will do something special — nothing. That's often also the philosophy of our guests.
Berlin, Germany (PRWEB) January 23, 2013
Two traditional Romanian country lodges are now part of Welcome Beyond – a website promoting only truly memorable vacation destinations worldwide and places that are stylish as well as authentic.
The lodges have been disassembled and rebuilt in order to protect this rare, traditional type of building. They are located in the north of Romania, near the village of Botiza and about 80km from Baia Mare, and make outstanding getaways for anyone seeking peace and solitude. Set above a valley both vacation homes offer panoramic views over the Mountains of Rodna and the village below.
One appears like a hunter's lodge and has been decorated with trophies, furs and other hunting-themed objects, the other is completely traditional with a long wooden porch inviting guests to enjoy the sunset. Fully equipped kitchens and bathrooms, traditional heating on the upper floor and a wood stove on the ground floor promise a comfortable and cosy stay. "The houses have a special atmosphere that immediately draws you in. It's like lifting off to another time. When I am here for three or four days, it's a bit like time travel, with a simpler, slower pace. It's like living 50 years in the past." owner Volker describes.
Guests may discover the rare local flora and fauna and, if lucky, even get a glimpse of wild animals, such as bears, wolves, lynx, deer and golden eagles in the surrounding countryside. Hunting, fishing or horseback riding excursions can be arranged and the old monasteries and traditional villages of Maramures are also worth a visit. Alternatively, guests may prefer to sit back and read by the open fire and simply enjoy the surrounding silence.
Welcome Beyond is a hand-picked collection of the most beautiful boutique hotels and vacation homes in Europe, Asia, the Americas and further afield. Visit these traditional Maramures Lodges online to read more and find out about other great vacation properties worldwide.