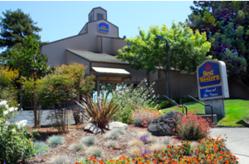 To help conserve energy, we have an Ozone machine in the hotel laundry that uses only cold water
Napa, CA (PRWEB) January 24, 2012
Designated as a Best Western Plus hotel, Napa's wine country lodging, Inn at the Vines features accommodations that suit the needs of both business and leisure travelers. Now, the Best Western Plus Inn at the Vines is a certified green hotel through Best Western International. Best Western properties in compliance with at least one of the national or international eco-labeling programs for the hotel industry will be able to display the eco-friendly icon on bestwestern.com and related web sites.
"We recycle of course," said Bret Cudd of Best Western Plus Inn at the Vines. "To help conserve energy, we have an Ozone machine in the hotel laundry that uses only cold water. Water Energy Ozone Laundry Systems greatly reduces the environmental impact of traditional laundry operations. The big shift is realizing that you can achieve high quality standards without using all the hot water and chemicals. Ozone is a highly effective oxidizer that actually delivers multiple cleaning factors to your laundry process using only cold water. We also have motion detectors on the HVAC units in guest rooms, fluorescent and LED light bulbs. We are in the process of receiving charging stations for plug-in vehicles. We even signed up for http://www.cleantheworld.org and recycle all bar soap and shampoo to save lives."
Best Western Plus Inn at the Vines also took the initiative to help children in need by sponsoring a child through World Vision, located on the web at http://www.worldvision.org.
The Best Western Plus Inn at the Vines is ideally situated in the beautiful town of Napa with easy access to hundreds of wineries and the Napa Valley Wine Train. Hotel guests will discover a variety of nearby restaurants and amazing golfing at the Chardonnay Golf Club or Silverado Country Club and Resort. The boutique hotel also offers travelers a complete experience, with rooms that feature complimentary high-speed internet access, direct dial telephones with voicemail, satellite TV, refrigerators, hair dryers and more. The hotel also features free parking, an outdoor pool and hot tub, a restaurant, and a complete business center for business travelers.
For more information about any of the Best Western Plus Inn at the Vines' services or amenities, call 707-312-8862, view the hotel on the web at http://www.innatthevines.com or visit 100 Soscol Ave. in Napa Valley.
About Best Western Plus Inn at the Vines
Best Western Plus Inn at the Vines is a Napa boutique hotel, featuring convenient wine country lodging in Napa Valley, accommodations for both business and leisure travelers and pet-friendly rooms.
Best Western Plus Inn at the Vines is central to many Napa Valley activities. It is just minutes away from historic Downtown Napa, shopping, restaurants and more. Enjoy world-class restaurants, championship golf courses and the many wineries that have made Napa Valley a favorite destination for travelers throughout the world. Discover nearby parks, hiking trails, horseback riding and hot air balloon rides.
###