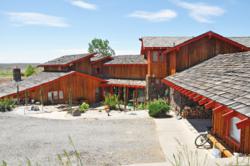 Beautiful country ranch with hot springs, green houses and surrounded by public lands.
(PRWEB) April 19, 2013
Realty Auction Services LLC, an Idaho Real Estate Auctions service, announced an updated list of spring auction offerings for premium commercial and residential real estate in Idaho. The properties include a range of 3 to 6 thousand square foot country real estate homes and feature the commercial and recreational property of White Arrow Ranch and Mineral Hot Springs. The White Arrow Ranch will be sold at Auction on Thursday May 16, 2013 to the Highest Bidder, Regardless of Price. Property inspection and open house is Saturday, April 27th, May 4th and May 11th.
White Arrow Ranch is located in Bliss Valley, Idaho in a secluded and private area surrounded by 1,000's of acres of BLM land and is comprised of 280 acres. As premium ranch real estate auction, it boasts one of the largest, privately owned geothermal hot springs in the country offering two cubic feet per second (1,300,000 gallons per day) of 160 degree water. The water heats the buildings on the property and fills the swimming pool, and the Jacuzzi spa next to the pool, for year round enjoyment. A paved, well-maintained, country road services the ranch, with airlines flying into nearby Twin Falls, Boise, and Hailey (Sun Valley).
The property also includes over 40,000 square feet of commercial greenhouse space. The greenhouses can be heated year round by the geothermal hot springs 24 hours a day, seven days a week saving thousands of dollars annually in heating costs.
The White Arrow Ranch house features over 7000 square feet with an inviting entry hall that leads to the cathedral ceiling great room. The great room showcases an over-sized fireplace carved into the lava rock wall. The large well-designed kitchen displays commercial grade appliances with generous counter space and open shelving and cabinets necessary to serve guests or friends staying in five bedrooms. In addition, the ranch has an inviting sunroom accessible through a series of sliding glass doors and serve as a game room.
The year round outdoor feature is the four-season swimming pool surrounded by a geo thermal heated Oakley stone deck with a large Jacuzzi-style hot tub and spa. The pools are heated by the hot spring and include a large shallow area that can accommodate children or adults. The pool depth reaches ten feet and includes some of the best sunset in Idaho.
On the ranch land itself; there is year round swimming, hunting, shooting, bird watching, fishing, hiking, mountain biking, rock climbing and spelunking. Within easy driving distance is an almost endless variety of outdoor activities, from boating, to golf, to white water rafting, to hang-gliding, to llama pack trips, to skiing (cross-country and world class downhill), to snowboarding, to sleigh riding, to skating (year 'round), to snowmobiling, to tennis, to touring in some of the grandest mountain settings America has to offer.
About Realty Auction Services
Realty Auction Services "NationWide", a MarkNet Alliance Company has specialized in real estate auctions since 1997 and has conducted real estate auctions for many individuals, attorneys and mortgage companies. In addition, Realty Auction Services has also worked with seller owners in association with: Keller Williams, Coldwell Banker, Windermere, Prudential, GMAC, ReMax, Century 21, United Country, Exit Realty, Interstate Brokers, LLC and Idaho Country Properties.
Contact:
Randy Wells
Realty Auction Services, LLC
208-699-7474