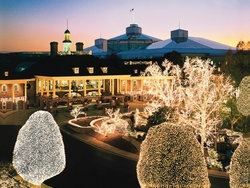 Not even a flood can dampen our Christmas spirit at Gaylord Opryland
Nashville, TN (Vocus) October 26, 2010
Nashville's iconic Gaylord Opryland Resort, which has been closed since unprecedented flooding during the first weekend in May, will soon be back open and better than ever—just in time for its 27th annual A Country Christmas presented by Coca-Cola, which runs Nov. 19, 2010 through Jan. 2, 2011.
"Not even a flood can dampen our Christmas spirit at Gaylord Opryland," said Pete Weien, senior vice president and general manager of Gaylord Opryland Resort & Convention Center. "Everything is on track for our much-anticipated reopening on Nov. 15, and we are delighted to unveil new enhancements to the resort as well as new offerings for A County Christmas."
Nearly 1 million guests each year experience the family-friendly shows and activities and beautiful 2 million twinkling lights that are the hallmark of the world-famous A Country Christmas at Gaylord Opryland. A Country Christmas has been called one of the "Ten Great Places to Catch Up with Santa" by USA Today; hailed as "The Most Christmassy Hotel in the Nation" by the Travel Channel's Extreme Christmas; named one of the top 10 places to spend Christmas in the world by Travel + Leisure; and referred to as a "Nashville treasure" by Southern Living.
This year's A Country Christmas lineup features new events as well as fresh takes on a number of favorite holiday traditions, including:
ICE! featuring Santa Claus is Comin' to Town® (Nov. 19, 2010 – Jan. 2, 2011)
The interactive, colorful ice sculpture world of ICE! returns with a brand-new theme for 2010! The holiday television special Santa Claus is Comin' to Town®, celebrating its 40th anniversary this year, will come to life in 2 million pounds of ice. Artisans brought to the resort from Harbin, China—home to the internationally famous Harbin Ice Festival—will hand carve sculptures, slides and scenes from this Christmas classic, including Burgermeister outlawing toys in Sombertown, Winter Warlock's heart melting and Kris Kringle becoming Santa Claus.
NEW! SNOW! ™ (Nov. 19, 2010 – Jan. 2, 2011)
Guests of all ages can find their inner child as they play outdoors in our brand-new winter wonderland made of real snow. Romp and play in the white fluffy stuff and enjoy live reindeer on display, a snow maze, a snowball throwing range, building an igloo, shopping in Santa's workshop and much, much more.
Louise Mandrell's 'The Gift' Christmas Dinner & Show featuring Christy Sutherland (Nov. 26– Dec. 25, 2010)
Country music artist Louise Mandrell returns to Gaylord Opryland Resort's magnificent Delta Ballroom theatre for a third year with an all-new dinner show featuring Christy Sutherland. This multi-talented Mandrell and her band bring a combination of lively Christmas music, choreography and comedy to the stage as they celebrate the Reason for the Season. The unforgettable menu, created by Gaylord Opryland's award-winning chefs, includes hearty comfort food.
NEW! Breakfast with Kris Kringle (Nov. 21 – Dec. 26, 2010)
Kris Kringle—the star of this year's ICE! featuring Santa Claus is Comin' to Town®—and Topper will join families and Santa Claus-adoring friends for a delicious breakfast Saturdays and Sundays (plus Christmas Eve and Christmas Day) from 7 –11 a.m. in the Garden Conservatory Atrium. Kris Kringle and Topper will shake hands and pose for photographs as they visit from table to table.
Radio City Christmas Spectacular® starring the Rockettes (Nov. 19 – Dec. 24, 2010)
The world-famous Radio City Rockettes® bring their legendary eye-high kicks and a cast and crew of nearly 100 to the newly-renovated Grand Ole Opry House® in America's number-one holiday show, the Radio City Christmas Spectacular®. Seen by 70 million people over 77 years, the show appeals to the entire family. Parents enjoy the flawless precision of the Rockettes in numbers such as the legendary "Parade of the Wooden Soldiers." Children marvel as Santa takes them on a magical ride to his workshop at the North Pole, where playful ragdolls come to life! And everyone is genuinely moved at the stunning reenactment of the very first Christmas in the "Living Nativity."
Rockabilly Christmas (Nov. 19 – Dec. 24, 2010)
Gaylord Opryland's Rockabilly Christmas is a wild and wailing, fun and colorful FREE show, with all of the rockin' classic Christmas tunes of the 1950s. Rockabilly Christmas, featuring live band Hillbilly Casino, dancing girls and Santa's lost sleigh, is performed Wednesday through Sunday evenings atop the brand new Conservatory Atrium restaurants.
Winter Wonderland (Dates vary; Nov. 19 – Dec. 24, 2010)
Winter Wonderland is a popular, family-oriented hub of holiday delights, conveniently located in Gaylord Opryland Convention Center's Ryman Exhibit Halls. Attractions include the NEW Cookies with Mrs. Claus; a gingerbread-decorating corner; visits and photos with Santa Claus; the charity-focused Hall of Trees; a holiday train ride for kids and the 27-year-tradition of the Treasures for the Holidays Craft Show.
Christmas Aboard the General Jackson Showboat (Nov. 18 – Dec. 25, 2010)
The General Jackson Showboat's 300-foot paddlewheel sparkles and shines this holiday season with two memorable Christmas cruise options in the boat's magnificent two-story Victorian Theater. A Country Christmas on the Cumberland is a heartwarming evening of holiday classics and contemporary songs of the season with a chef-prepared traditional Christmas meal. Tim Watson's Tennessee Christmas features down-home humor, great country music and Christmas classics and a holiday lunch served family-style in bottomless bowls.
And more!
The fun doesn't stop there. A Country Christmas features even more, including the FREE Brightest Star Fountain Show, a glorious water show synchronized to favorite holiday songs; the beautiful Outdoor Nativity Display that features special lighting effects and an audio rendition of the biblical story of Christ's birth; outdoor carriage rides; 2 million sparking lights and more.
Vacation packages for A Country Christmas at Gaylord Opryland are now on sale, with options ranging from one night to three nights at the iconic resort. For more information or to purchase tickets, please visit http://www.ChristmasAtGaylordOpryland.com or call 1-888-999-OPRY (6779).
ABOUT "A COUNTRY CHRISTMAS"
Gaylord Opryland's A Country Christmas® is proud to present ICE! ™ featuring Santa Claus is Comin' to Town® —the Only SHOW like it in the USA! The colorful, interactive ice sculpture world tells the story of how our favorite Christmas traditions came to be. The Radio City Christmas Spectacular®, starring the world-famous Radio City Rockettes®, is back with dazzling costumes, brilliant choreography and favorite scenes, such as the "Living Nativity" and the "Parade of the Wooden Soldiers." Also as part of the event are Louise Mandrell's 'The Gift' Christmas Dinner & Show™, the General Jackson® Showboat, Treasures For The Holidays Craft Show; Carriage Rides; Photos with Santa; Brightest Star Fountain Show; Hall of Trees and nearly two million Christmas lights. It's everything Christmas and all at Gaylord Opryland®.
MSG Entertainment (MSGE), the live entertainment arm of Madison Square Garden, Inc. (Nasdaq: MSG), is a worldwide entertainment company recognized for its signature combination of event production and entertainment marketing. In addition to the nearly 900 entertainment concerts and events that take place each year at Radio City Music Hall, Madison Square Garden, The Theater at Madison Square Garden, The Beacon Theatre and The Chicago Theatre, MSGE has an exclusive co-booking agreement with Boston's Citi Performing Arts Center/ Wang Theatre. MSG Entertainment's live events include the Radio City Christmas Spectacular, which includes the national arena tour and the theatrical tour and has played to more than 69 million in 63 different cities across North America. Additionally, MSGE has an ongoing partnership with Cirque du Soleil to create new content and productions for its venues. Wintuk, which premiered in 2007, was built exclusively for The Theater at Madison Square Garden and runs every holiday season. More than five million people attend MSG Entertainment branded events annually including concerts, special events, and family attractions.
"Santa Claus is Comin' To Town" © 1970, renewed 1998 Classic Media, LLC. Character names, images and other indicia are trademarks of and copyrighted by Classic Media, LLC. All rights reserved.
© 2010 Madison Square Garden, L.P
###