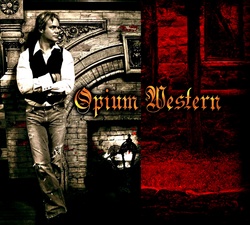 My goal was to take the heavy, bass driven groove from the likes of Lenny Kravitz, U2 and others, combine it with classic retro-ballad-country songwriting, and put it to a hard rock beat
Wichita, Kansas (PRWEB) July 5, 2009
"Opium Western" is the new album from singer/songwriter Dane Mulligan, formerly of the Arizona-based band, "Desert Saints". The album was produced by Dane with the help of two noteworthy individuals: Larry Elyea, acclaimed producer and owner of Mind's Eye Digital Studios, and Grammy-winning mastering engineer, Brian Gardner.
Essentially a rock and roll album, it combines country and rock influences - along with blues, Norteno, and folk - in a whole new way. "My goal was to take the heavy, bass driven groove from the likes of Lenny Kravitz, U2 and others, combine it with classic retro-ballad-country songwriting, and put it to a hard rock beat".
The basic tracks - bass, drums, guitar and vocals - were recorded at The Saltmine Studios in Phoenix, Arizona. New vocals, acoustic guitar and accordion were recorded at Planet Paul Studios in Wichita, Kansas, then integrated and remixed by Larry Elyea in his Phoenix studio. The finished songs were mastered by Brian Gardner in Hollywood. "The whole process ended up taking a year - almost to the day. But it was worth it".
The album creates it's own genre by exploring the uncharted territory that still exists between rock and country. Others have succeeded in doing so; but Opium Western does it in a refreshing and uplifting way. At times verging on "eclectic" the album never strays from it's rock and roll core - in a way that is at the same time classic, new sounding, and intense.
Song Highlights:
Track 1- Divorciada: "Spanish for divorced woman..."
Track 2- A Moment Beside Her: " We book-ended the song with simple accordion, acoustic guitar, bass and vocals to show where the inspiration for the song came from - the raw, pure energy of Norteno music."
Track 3- 500 Miles: "I've wanted to do my own version of this song for years. Originally written by Hedy West, and covered by the likes of The Kingston Trio and Peter, Paul and Mary - it's a depression era song that is all too poignant for our current times..."
Track 5- Great Balls of Fire: "This is my stripper-version of an old classic. The original lyrics put to a new melody... people love it."
Track 7- So Many Women: "Definitley tongue-in-cheek on this title... Fast, up-beat, fun... but definitely tongue-in-cheek..."
Track 8- Valley of the Shadow: "It's a story about the tragedy of war placed in the context of a love song. I wrote it on the eve of the Iraq War in 2003."
The Production Team:
"'Opium Western' has given me the tremendous opportunity to work with two very talented recording professionals: Larry Elyea of Mind's Eye Digital Studios in Tempe, Arizona, and 'Big Bass' Brian Gardner of Bernie Grundman mastering in Hollywood.
"Larry Elyea is praised as 'the most coveted producer in Phoenix' by the Phoenix New Times. He's an extremely gifted producer, engineer and musician, and ultimately assumed the role of co-producer on the project. I consider myself quite fortunate to have earned his time, effort and respect. One of the best compliments I've ever received was from Larry, citing himself as 'a huge fan' of mine. He was - and is - completely inundated with projects due to his popularity and success; and I'm immensely grateful to him for fitting me in to his 12 to 14 hour days.
"I'm elated to have the Grammy-winning talent of Brian Gardner for the mastering stage of Opium Western. I'm truly mystified at what he can do with a two-channel stereo mix. I couldn't be there to witness his process; but I would've loved to see the culmination of forty years of mastering experience in action. Should I have the opportunity to do more records he'll be my mastering engineer - for life. I can say with all sincerity he helped me find my sound."
###