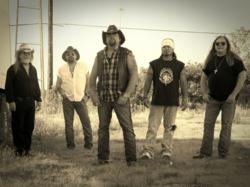 Then let the bad ones be blessed and the trends be damned...
Cincinnati, OH (PRWEB) February 05, 2013
"Dallas Moore is the New Messiah of Outlaw Country Music," proclaims CJ Cumberland, host of the Louisville Kentucky based radio show, Cumberland Country. That's a bold statement to say the least but one that is proving hard to dispute with the release of the Dallas Moore Band's 2013 outlaw masterpiece, "Blessed Be the Bad Ones." In eerie fashion, almost as a sign from the long gone masters of the genre, Waylon Jennings, Johnny Cash, and Hank Williams Sr. himself, Moore's label Sol Records has released this epic 12 song cd seemingly in response to pop country artist Blake Shelton's recent statement that folks who perform and /or listen to classic country music are "old farts and jackasses."
Defiantly brazen in its lyrical attack and musical assault, Dallas Moore, backed by his longtime band of honky-tonk virtuosos, charges through the tracks of "Blessed Be the Bad Ones" like a man on a mission, a mission to save real country music from the Top 40, cookie cutter crowd that has been served up by Nashville for several years now. This is the kind of album that is a throwback to the grit and grind of the golden years of the 1970's when Outlaw Country and Southern Rock reigned supreme.
If Dallas Moore is being called an "overnight success" it has certainly been a long night. Moore has spent the last 25 years as a country artist burning down the highways and honky-tonks of America, telling his dark and brooding tales of life, love, revenge and redemption on the dimly lit stages far away from the auto-tuned glitz of the "Nashville Scene." It wasn't until the 2012 release of "Hank to Thank: Live at Herzog Studio" featuring long time Willie Nelson & Family guitarist Jody Payne that the Dallas Moore Band finally broke through to exposure on a national and even worldwide level. The debut video single "Crazy Again" dominated the charts at country video site Yallwire.com spending a record breaking 40 weeks at #1. The video for "Blessed Be the Bad Ones" appears to now be following in the footsteps of "Crazy Again" as it has currently held the #1 spot on the Top 100 country artist video chart for 10 weeks as of this writing and has eclipsed "Crazy Again" in total views, receiving an unprecedented amount of spins in just ten weeks since its debut.
Dallas Moore is profiled and featured in the upcoming book "Outlaws: Still At Large" by author/professor Neil Hamilton to be released in spring of 2013. Moore takes his rightful place alongside the founding fathers of the Outlaw Country music movement Cash, Coe, Shaver, Waylon and Willie as well as modern day keepers of the flame Jamey Johnson, Blackberry Smoke and Shooter Jennings.
Perhaps Dallas Moore is the "New Messiah of Outlaw Country Music." If so, then let the bad ones be blessed and the trends be damned. Shout "Hallelujah!!!" and give thanks. Country music just might be saved after all. "Blessed Be the Bad Ones" is available now digitally on iTunes, Amazon, with CD's available at Sol Records and Dallas Moore Official Site
Dallas Moore is a critically acclaimed singer songwriter whose music has been featured on the Discovery Channel, Fox, Travel Channel, Speed Vision, country radio as well as internet and satellite radio worldwide. Dallas has performed with many of his heroes including Willie Nelson, Billy Joe Shaver, Waylon Jennings, David Allan Coe and others. For more information, media requests, and free mp3 downloads please visit http://www.dallasmoore.com