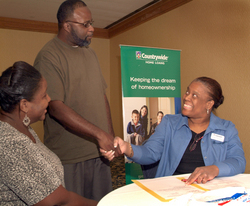 Countrywide understands that unexpected life events can negatively impact a person's financial situation. The top three reasons for foreclosure are curtailment of income, divorce and major illness; events that can affect anyone at anytime
Calabasas, CA (Vocus) September 2, 2007
Help is readily available for homeowners who are experiencing difficulty meeting their monthly home loan mortgage payment. Countrywide Financial Corporation (NYSE:CFC), through its Home Ownership Preservation Program, recommends several strategies that may enable borrowers to manage their mortgages, avoid foreclosure and preserve their most valuable asset, their home.
"Countrywide understands that unexpected life events can negatively impact a person's financial situation. The top three reasons for foreclosure are curtailment of income, divorce and major illness; events that can affect anyone at anytime," said Michael Gross, Managing Director, Loan Administration of Countrywide Home Loans, Inc. "Additionally, factors such as rising interest rates on adjustable-rate mortgages combined with the inability to refinance due to market conditions are putting an additional strain on borrowers."
Through its homeownership preservation program, Countrywide reaches out to distressed homeowners in their own communities by sending workout teams to meet face-to-face with borrowers. Seminars are also hosted around the country to help borrowers avoid foreclosure, teach foreclosure scam awareness and in some instances offer loan workouts on-site. To date, Countrywide has helped over 35,000 homeowners keep their homes.
Here are some steps borrowers can follow when they are experiencing difficulty or concern about meeting their monthly mortgage payment:
If borrowers are delinquent or know that they will be, they need to contact their lender immediately. The sooner the lender is contacted, the better the chance of developing a successful home retention plan. While each situation is unique, most lenders may be able to offer one of the following options:

Temporarily delaying payments (also known as "Forbearance")—a formal arrangement that either suspends or reduces monthly payments until the borrower recovers from the financial setback.
Recovering from missed payments (also known as "Repayment Plan")—a written agreement between the borrower and the lender outlining how to handle missed payments. It involves spreading the delinquent amount over several months (in addition to regular payments) until the loan is brought current.
Restructuring the loan (also known as "Modification")—a temporary or permanent change in one or more of the loan terms in order to get the payment down to a more affordable amount. Methods include changing the loan's interest rate, extending the time available to repay or re-amortizing the loan balance. This option is not available on all loan products.
Refinancing the home loan—pays off the old loan with a new loan that has different terms more suited to present circumstances, designed to establish a lower monthly payment amount than the original loan.
When staying is not an option—if financial circumstances have dramatically changed and the borrower can no longer afford the home, needs to relocate or just wants a fresh start, there are options available. Early understanding of this will aid in the ability to sell the home and avoid a foreclosure. If the loan balance exceeds the value of the home, early contact with the lender will help determine if there is a possibility to accept a reduced payoff amount.
In order to determine the best short- and long-term solutions, borrowers should be prepared to provide the following information when contacting their lender:

Authorization--If the borrower is using a representative, like a non-profit housing counselor, attorney or a trusted friend or relative, lenders will need a written authorization signed by the borrower granting permission for the mortgage company to communicate personal financial information to the representative.
Account information–Lenders will need basic information, such as the loan number, property address and the borrower's current mailing address.
Employment/income/expenses–Information about the borrower's current employment status, as well as the current income for all obligated borrowers or individuals contributing to the household's monthly budget. Usually, the lender will want to see evidence of two months income and a list of the household's monthly expenses to help determine whether the income will be sufficient to cover the borrower's current obligations.
Pertinent assets–Information about the current value of other assets available to the borrower including other real estate, bank accounts, investments or retirement funds. The borrower will also be asked about the value of any vehicles owned plus the amounts owed on the vehicles.
Personal circumstances impacting the ability to repay–The borrower should provide information concerning any personal circumstances that are currently limiting the borrower's ability to pay the mortgage, for example, illness, loss of employment, change in earnings, divorce or death of a wage earner.
Status of the property–If the property is for sale, the lender will need to know the realtor's name and contact number and whether or not the borrower currently occupies the property or holds it as an investment (e.g., rental or otherwise vacant).
Bankruptcy–If the borrower has filed for bankruptcy protection, creditors must stop any attempt to collect outstanding debts. If the borrower or the borrower's representative presents a specific repayment proposal to a creditor, the lender is permitted to either accept or deny that specific proposal. If the lender does not accept the proposal, the company is unable to offer alternatives as this may be viewed as an attempt to collect the debt. It is usually best that borrowers who are subject to bankruptcy protection use their bankruptcy counsel/attorney to assist in debt related negotiations.
Beware of foreclosure "rescue" scams. Unfortunately, scam artists seek to prey on the desperation of people who are willing to consider nearly any option to keep their home. Borrowers need to be wary as they pursue ways to avoid foreclosure. Borrowers should:

Make sure credit counselors work for a HUD-approved organization.
Beware of anyone who offers to buy their home and "help" buy it back later.
Avoid offers that require a payment for counseling and other help.
Not sell their home without first talking to their lender.
Borrowers also can contact the nonprofit Homeownership Preservation Foundation (HPF) at 1-888-995-HOPE (888-995-4673) for free foreclosure prevention counseling. The cornerstone service of the Minneapolis-based HPF, the Homeowner's HOPE™ hotline is a free 24/7 counseling service that connects borrowers with expert HUD-approved counselors to help find a solution to overcome financial difficulties and possibly avoid foreclosure. For more information about HPF or the Homeowner's HOPE™ hotline, visit http://www.995hope.org.
For additional foreclosure prevention tools and resources for homeowners, visit Countrywide's H.O.M.E. (Home Ownership Mortgage Education) web site at http://www.HomeByCountrywide.com.
About Countrywide Financial Corporation
Founded in 1969, Countrywide Financial Corporation is a diversified financial services provider and a member of the S&P 500, Forbes 2000 and Fortune 500. Through its family of companies, Countrywide originates, purchases, securitizes, sells, and services prime and nonprime loans; provides loan closing services such as credit reports, appraisals and flood determinations; offers banking services which include depository and home loan products; conducts fixed income securities underwriting and trading activities; provides property, life and casualty insurance; and manages a captive mortgage reinsurance company. For more information about the Company, visit Countrywide's website at http://www.countrywide.com.
# # #