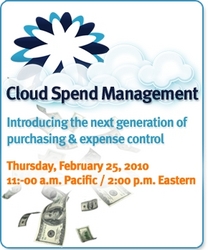 The timing for this solution is ideal - given the current economic environment, I suspect demand will be high for this unique solution to how companies manage their non-payroll spending.
San Mateo, CA (PRWEB) February 22, 2010
Coupa Software, developer of the category-disrupting e-procurement solution for business leaders dissatisfied with purchasing applications that either sit on the shelf or underperform in delivering expected savings, today announced the introduction of an Expense Management product that adds expense reporting and auditing capabilities to the Coupa Cloud Spend Management platform. With Coupa, companies can control 100% of their indirect spend through one platform, providing unparalleled visibility into, and control over, company spending.
Coupa will be demonstrating the new capabilities of the Feb '10 release in a webcast on February 25th. Registration is complimentary.
Connecting All Sources of Spending in the Cloud for Better Control, and Greater Savings
Coupa Cloud Spend Management delivers the best e-procurement and expense management capabilities in a single solution that is easier to use, faster to configure and deploy, and more cost-effective than anything available today. The platform features a single user interface, a single workflow model for approving purchases and reimbursable expenses, one underlying chart of accounts, one set of budget entries against which to credit purchases and expenses, consolidated dashboards for unparalleled visibility into non-payroll spending, and dozens of operational benchmarks to compare your organization's performance against other companies transacting through the Coupa platform.
Analysts briefed on Coupa Cloud Spend Management offered these insights and comments:

Chris Dwyer, Research Analyst, Aberdeen Group - "It's not often you call enterprise software 'hip', but it's a description that fits Coupa's new Cloud Spend Management platform. The timing for this solution is ideal - given the current economic environment, I suspect demand will be high for this unique solution to how companies manage their non-payroll spending. It's easy to use, controls all purchasing and expense reporting processes from one system, and includes intuitive audit scoring, dashboarding and benchmarking capabilities, all capabilities that will play very well in 2010, a year in which enterprises will more strategically attack their non-payroll and expense management spending."
Mickey North Rizza, Research Director, Gartner - "A cloud spend management platform including expense management execution and reporting and auditing capabilities, provides companies with a very real opportunity to manage and control all indirect spend from one application. Add to this platform real-time analytics and cross-company benchmarking, the cloud spend management application quickly becomes procurement's best friend."
Robert Kugel, Senior Vice President & Research Director, Ventana Research - "Most spend management applications follow an accounting ledger-structured view of the world that prevents people from working the way they normally would. Coupa, on the other hand, has tried to provide an application that operates the way people naturally behave so that they will want to use it. This is even more the case with the latest version of the software, which now includes purchases and expenses, giving organizations a real opportunity to control all indirect spend from a single system. Achieving broad, consistent use of spend management software has been a challenge for companies. High utilization is a key driver for realizing value from spend management software because it enables corporations to save money through greater spending control. It also enhances management effectiveness by giving them greater visibility into future spending commitments."
Jason Busch, Editor of Spend Matters - "With its latest release and capabilities, Coupa is moving up-market while not ignoring its core small and middle market procurement constituents. The greater the level of enabling services and insight that companies can deliver as part of a non-installed software approach, the greater the value the solution will generate from savings, compliance and process improvement perspectives. Moreover, Spend Matters research suggest that benchmarking, analytics and data visualization capabilities are becoming the ante to deliver the next generation of procure-to-pay solutions in the Spend Management market. In addition, the combination of T&E capabilities with core procurement makes fundamental sense for middle-market organizations that do not require highly specialized solutions."
Jeffrey M. Kaplan, Managing Director of THINKstrategies and Founder of the SaaS Showplace - "In today's increasingly challenging economic environment, it is essential for organizations of all sizes to more carefully control their spending. Coupa is building on the success of its e-Procurement capabilities to offer its customers an integrated Cloud Spend Management platform which can help them better manage a broader array of their ongoing expenditures."
The new Expense Management capabilities introduced as part of Coupa's Feb '10 release allow customers to:
Audit expense reports based on likelihood of fraudulent or excessive spending behavior. Coupa Expense Management removes the need for an "all or nothing" approach to expense report verification. Coupa automatically scores each and every expense report, and employee, to identify suspect or fraudulent patterns that warrant further attention from the accounting department and employee managers. Each expense report is assigned an intelligent audit score based on the employee's historical patterns and details of the current report – the higher the score, the higher the risk of non-compliance with the company's expense management guidelines.
Flip approved requisitions into pre-approved line items on employee expense reports. With Coupa, an employee can execute a simple search from within the company's cloud spend management application for an item she needs to do her job, find the item on Amazon.com at very reasonable cost, and pull it into a requisition that her manager then reviews and approves from her iPhone. The employee is notified that her requisition is approved, and is directed back to Amazon.com to complete the transaction. The completed purchase is then automatically entered into an expense report as a pre-approved line item, and credited to the proper account and budget period, making it much easier for managers to control spending and stay within budget.
Influence desired employee behavior and develop a culture of smarter spending. With Coupa, you can embed intelligence into your expense management processes to encourage the right employee behavior and eliminate abuses like the employee who knows the per-meal allowance is $25 and submits every meal expense for $24.95. Coupa analyzes each expense report line item as they are entered to determine if it deviates from the category norm. If it's well below the norm, the employee is recognized with a 'thanks for being frugal' message, reinforcing behavior that saves the company money. If it's too far above the norm, though, Coupa will alert that employee that the cost for the expensed item either exceeds the allowable limit or 'seems a little high.' The algorithms that control the notifications are dynamic and move with category averages, making it much harder for employees to manipulate.
"We are extremely excited by the heavy demand for Coupa's Cloud Spend Management offering by our existing customers, and the growing interest in our expanding offering from companies around the world," said Rob Bernshteyn, Coupa's CEO. "The opportunity to leverage one cloud application suite for managing all indirect spend in an easy to use, rapid to deploy, and cost-effective fashion is here; and Coupa is delivering it."
About Coupa Software
Coupa is the leading provider of cloud spend management (CSM) solutions that help companies control their indirect spending and generate savings that go direct to the bottom line. Coupa combines the best e-procurement and expense management capabilities in a single solution that is easier to use, faster to configure and deploy, and more cost-effective than anything available today. With deep domain knowledge in e-procurement and expense management, a best-in-class cloud computing platform, a fast-growing community of customers, and industry-first innovations like real-time benchmarking, intelligent expense report auditing, and crowd sourcing great deals on the Web, Coupa is leading the way in helping companies spend smarter and save more. For more information please visit, http://www.coupa.com or call 650.931.3200.
###