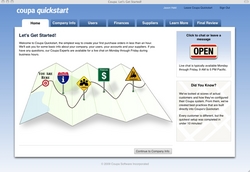 When you look at the budgetary and funding challenges facing government agencies, it's easy to become discouraged by the enormity of the problem
San Mateo, CA (PRWEB) August 5, 2009
Coupa Software, developer of an on-demand e-procurement application for smarter spending, announced today that federal, state and local government agencies are invited to use Coupa e-Procurement free of charge for six months to rein in spending and establish control over inefficient procurement practices.
"When you look at the budgetary and funding challenges facing government agencies, it's easy to become discouraged by the enormity of the problem," said Rob Bernshteyn, CEO of Coupa Software. "But these are problems that can be remedied, and Coupa is offering to be part of the solution. With our Six Months to Smarter Spending initiative, Coupa is reaching out at the grassroots level directly to the agencies themselves - and offering a helping hand."
How it Works
Available to federal, state and local government agencies committed to consuming less paper, automating purchasing processes, rooting out inefficiency, and improving control over and visibility into agency spending of taxpayer dollars, Coupa's Six Months to Smarter Spending initiative offers government agencies:

A six-month, no-fee subscription to Coupa e-Procurement. Coupa e-Procurement is a fully functional, web-based e-procurement platform for managing requisitions, approval processes, purchase orders, RFQs, desktop receiving, invoice payment and more;
Rapid deployment through Coupa Quickstart, a visual configuration wizard that gets organizations up and running with Coupa, and cutting their first purchase order, in as little as 90 minutes;
Up to four hours of complimentary training and services to expedite the adoption of smarter spending practices; and
On going support, just like every other Coupa Software customer.
"We're not talking about your typical ERP procurement application," Bernshteyn continued. "With Coupa, agencies can crowdsource spend control in true grass-roots fashion and achieve real savings. Top-down spending directives have their place, but empower every employee to participate in smarter spending initiatives, and you will be surprised by the results. In fact, I guarantee it!"
More details on the Six Months to Smarter Spending for government agencies program can be found here:
http://www.coupa.com/six-months-to-smarter-spending
To learn more about latest release of Coupa e-Procurement, please visit the July '09 release page and read the Coupa Cabana, the company blog.
About Coupa Software
Coupa is the leading on-demand provider of solutions that control and streamline purchasing for organizations beyond the Fortune 500. Coupa e-Procurement delivers an easy to use, fast to deploy and affordable solution for requisitioning, purchase orders, RFQs, inventory and invoicing, with no hardware to buy or software to license. With deep domain knowledge in e-procurement, a best-in-class software-as-a-service platform, a network of more than 2,300 suppliers, and a fast-growing community of customers, Coupa enables smarter spending practices that allow companies to save money quickly. For more information please visit, http://www.coupa.com or call +1.650.931.3200.
###