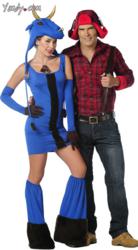 PHOENIX, Ariz. (PRWEB) October 09, 2012
Husbands and wives, girlfriends and boyfriends and male and female friends alike flock to Yandy.com this Halloween to shop one of the largest selections of couples costumes available on the web. Yandy.com, online retailer of sexy Halloween costumes, offers shoppers looking to couple up for their upcoming costume party a nearly 60 unique couples costumes to choose from.
Couples often choose to play off of each other when choosing Halloween costumes and this year is no exception. The Blood Sucking Couples Costume which offers both male and female versions of traditional vampires and the Reservation Royalty Couples Costume complete with male and female Native American costumes with real feather head dresses are always popular options. For those looking to invoke humor in to their costume choice, Yandy's exclusive Paul Bunyan and Sexy Babe The Blue Ox Costumes are sure to turn a few heads. For those looking to pay homage to the soon to be ending Mayan calendar that is all the buzz this year, the Deluxe Mayan Rulers Couples Costume with ornate Mayan-inspired garments and head pieces is right up their alley.
Not only are couples costumes a trend but going dressed up as a group is often a popular choice for Yandy shoppers. From sexy fruit to magical ponies to adorable cartoon bears, the possibilities are endless for customers who want to shopping for group costumes for any upcoming Halloween soiree.
Not only are there endless costume options, but every Yandy shopper also receives free, flat rate shipping on orders over $70 as well as a free panty with every order. Whether it is funny, sexy, spooky or ornate, Yandy.com offers something for every type of shopper looking to partner up this Halloween.
About Yandy.com
E-commerce is on the rise and Yandy.com is one of the largest online retailers of lingerie, sexy Halloween costumes, swimwear and clothing on the web. Founded in 2003, Yandy boasts more than 6,500 products always in stock at easily affordable prices. Yandy ensures that every customer will receive a safe, secure and private online shopping experience and is backed by COMODO online security and Google Checkout. Yandy is dedicated to customer service and only sells what is in stock which allows for quick, same day shipping. Offering the highest quality products at the most affordable prices in the market, Yandy has become a leader in e-commerce. Yandy works closely with all of the manufacturers they distribute for and hand select all of the items on the Web site to ensure customers have the largest and most diverse collection to choose from. In addition, the customer service team at Yandy is unrivaled. With attentive and helpful operators, should a question or problem arise, the customer service team at Yandy is always willing and able to assist. At Yandy, every customer can Be Sexy.
###