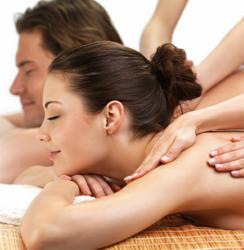 Celebrate Couples Massage Awareness Month And Enhance Life's Two Most Important Relationships, The One You Have With Yourself, And The One You Have Another
Tampa. Florida (PRWEB) January 31, 2013
Signature Massage hopes to bring special accommodation to couples wishing to indulge and unwind. "People are so entrenched in technology, from the time they wake up in the morning until they finally nod-off, cell phone just arms-length away," a company spokesperson noted. "It's unhealthy to drive your body day and night and not get the rest it needs to recharge."
Tampa's Signature Massage Center points to the many types of stress on Americans and how it grows year over year. Adults have reported suffering from differing sources, and percentages are alarming. Not surprisingly, money, work and the economy are the highest contributors, accounting for 75 percent, 70 percent and 67 percent respectively in a five year study conducted by the American Psychological Association. Relationships and family responsibilities followed, accounting for 58 percent and 57 percent respectively.
Signature has been a leading spa treatment service provider in Tampa Florida over the past several years and offers not only facial and waxing treatments, but couples massage, sports and deep tissue, hot stone therapy, reflexology, and massage therapy gifts as well as, a variety of other services.
People around the Tampa Bay area have found that Signature Massage provides excellent services, which cater to all persons of all types. For upcoming couples' massage awareness month, the center will offer a special spa day to make the experience all the more enjoyable and complete.
"We want to give couples a chance to take a much-needed break, to have some time together without noisy interruptions, without being tethered to a desk, a phone, or a machine. It's amazing the difference of what we see when a couple walks in the door to the time they leave--a complete transformation occurs," the company spokesperson stated.
Transformation is just one aspect of the experience. Reconnecting is another. Signature notes that couples are often so busy in their own lives with work and family, they forget about one another, and that eventually leads to a lot of unresolved stress.
Signature Massage says it's here to provide relaxation services to commensurate with the highest levels of customer service. It attributes its success to its satisfied customers who frequent the spa time and again.
About Tampa Signature Massage
The power of touch heals the body, balances the mind and nourishes the soul. Prepare to be indulged as you discover the unique massage treatments we offer in a soothing and tranquil atmosphere. Our highly skilled massage therapists offer world-class massage therapy of the highest therapeutic quality. We offer a wide range of medispa services such as body wraps and facials as well to tailor to your specific needs.
Signature Massage Center
11248 W. Hillsborough Avenue
Tampa, Florida 33635
http://www.signaturemassagetampa.com