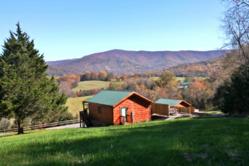 "When we opened Absolute Perfect Escape, we focused on larger units to accommodate larger groups. It is where there was demand," said Randy Howan. "We bought our new property, Hawksbill Retreat to fill another demand, smaller more romantic cabins."
Luray, VA (PRWEB) April 23, 2013
Luray, Va has become one of the most popular vacation destinations close to the Washington DC metro area. The internationally famous Luray Caverns, Shenandoah National Park, Shenandoah River and over 300 private vacation rentals including many mountain cabins for rent are one of the many reasons for the surge in popularity and why Page County was officially named the cabin capital of Virginia. Whether it's a family or romantic getaway, a Luray, VA cabin rental has proved a convenient choice for the last several years.
One company that has continuously grown for the past six years and is now standing out amongst all Luray cabin rentals is Howan Properties, LLC, owner of Absolute Perfect Escape Log Cabins and Hawksbill Retreat formerly known as Jordan Hollow Inn. Howan Properties, LLC started with one unit, a single large capacity cabin sleeping up to 24 guests at Absolute Perfect Escape. Owners, Randy and Misty Howan have grown their mountain cabins for rent to 11 available units ranging in size from luxury cabins that sleep two for that perfect romantic getaway to a million dollar luxury unit that sleeps 26 and every size needed between. "When we opened Absolute Perfect Escape, we focused on larger units to accommodate larger groups. It is where there was demand," said Randy Howan. "We bought our new property, Hawksbill Retreat to fill another demand, smaller more romantic cabins."
Hawksbill Retreat is beautiful! It is located at the foot of the Shenandoah National Park and has spectacular mountain views. The property is 44 acres with a stocked fishing pond, numerous hiking trails and is less than 10 minutes to most major attractions. There are 6 one-bedroom cabins, each with an open floor plan. Three sleep 2 and three sleep 4. There is also a three-bedroom cabin where each room has a private deck area and entrance, private bath, flat screen television and a gas fireplace. All of the cabins are decorated in luxury and provide outdoor seating areas and private hot tubs. The combination of mountain views, privacy and luxury accommodations make Hawksbill Retreat the perfect romantic getaway for couples.
Hawksbill Retreat opened only a few months ago and since that time already has experienced several couples returning for follow-up visits. "We intentionally thought of couples when refurbishing the cabins," said Howan. "There are a lot of places out there that claim to be an authentic cabin and claim to have great views, but we made sure ours were real. Even our three-bedroom is great for couples wanting a romantic trip together. Once more couples discover our romantic cabins, we believe they will return again and again."
To celebrate the opening of Hawksbill Retreat and its first spring season, Howan Properties, LLC is introducing a Couples Romantic Getaway Package. The package will include lodging for two adults for two nights, a complimentary bottle of wine and a bundle of firewood for the outdoor fire pit all to create a perfect getaway. If you want more information about the special or any of the cabins available, visit the website http://www.absoluteperfectescape.net.