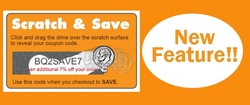 We are excited about this new addition to our website. At LeatherPaks we are always trying to find new ways to enhance our customers shopping experience
Mays Landing, NJ (Vocus) June 1, 2010
LeatherPaks, an online retailer for leather bags, leather briefcases and leather luggage , is releasing a new interactive Scratch and Save coupon feature that allows customers to enjoy bigger savings. This is the first time that a bag retailer is doing this online.
The Scratch and Save coupon feature has been popular mostly with offline and more traditional buying channels. Recognizing the ability to offer more generous savings, LeatherPaks had decided to implement this feature on their eCommerce website.
The Company specializes in leather laptop bags and travel bags. It has a wide range of products, ranging from handbags to briefcases for successful businessmen. The Company is also proud to carry many prestigious brands - ClaireChase , LeDonne Leather, McKlein USA, Floto Imports Italian Leather, Cape Cod Leather, Tony Perotti, Clark & Mayfield, and more.
"We are excited about this new addition to our website. At LeatherPaks we are always trying to find new ways to enhance our customers shopping experience," commented Walter Schmidt, founder of the Company.
The savvy business owner has always been one who strives to deliver beyond customers' expectations. LeatherPaks already offers an unbeatable 110% price match guarantee. In other words, if a customer finds the same product that is sold at a lower price somewhere else within 7 days, the Company is willing to refund 110% of the difference. On top of that, LeatherPaks is also offering a 100% money back guarantee on all its products. If unsatisfied with the purchase, simply request for a full refund within 30 days. The refund comes with free shipping as well (domestic orders only). All refunds and exchanges are handled by professional customer service staff who are always courteous.
Such emphasis on customer service already sets LeatherPaks apart from many other eCommerce stores. It's clear that the satisfaction of the customer matters to the Company. The Scratch and Save coupon feature is icing on the cake.
How the Scratch and Save Coupon Feature Works
This innovative feature works very realistically. Of course, being virtual, there is no physical coupon or ticket for the customer to scratch. Instead, the "scratching" is done using a virtual dime. The customer can click and drag the dime across the scratch area, and a discount coupon code will be revealed. The feature contains many different types of discount coupons, so there is an element of luck here. A lucky customer can walk away with a huge discount coupon, which may then be used on the purchase.
The interactive feature is visible on select product pages. To access this feature, visitors can browse the online product catalog and click on the product that they are interested in buying. The Scratch and Save card is just below the "Add to Card" button.
Note that you can only "scratch" the card once. In other words, once the coupon code is revealed, the visitor is not allowed to "scratch" another card again. The discount code may then be applied to the purchase. Simply enter the code when checking out.
###