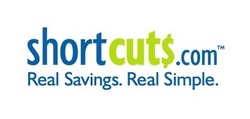 NEW YORK (PRWEB) September 18, 2008
To mark September as National Coupon Month, Shortcuts.com, a free, totally paperless electronic coupon service, compiled the ten smartest ways to save serious money at the supermarket each week by using grocery coupons.
1) Match Coupons with Weekly Sales. Always use coupons on items you need when they go on sale to double up on savings. Watch the grocery ads for weekly sales.
2) Seek Out Printable Coupons. Check out coupon web sites to select coupons you want to print and cut out to use at your grocery store just as you would coupons from the Sunday paper.
3) Turbo-Charge Your Store Loyalty Card. Online coupon sites like http://www.Shortcuts.com allow you to load coupons onto your store loyalty cards for savings without printing or clipping. Just click the coupons you want and they're automatically redeemed when you use your loyalty card.
4) Seek Out Coupons for Sale: If you spot a great sale and want to maximize your savings, go online to a site like http://www.TheCouponClippers.com to order coupons for a few cents each.
5) Reach Out to Your Favorite Brands. Frequent web sites of your favorite brands. You'll often find money-saving printable coupons right on the sites or you can sign up for special offers by mail or email.
6) Be Strategic About Buy-One-Get-One-Free (BOGO) Sales. To double your savings, use two cents-off coupons when a product is on sale buy-one-get-one-free, one for each of the products you are taking home to save more money.
7) Match BOGO Coupons with BOGO Sales. Use a buy-one-get-one-free coupon when a grocery item is on sale buy-one-get-one-free, and in many cases, you can get both items for free.
8) Stack Store & Manufacturer's Coupons. Several national grocery retailers offer coupons that can only be used in their stores. When you purchase a grocery item you can pair the store-specific coupon with a manufacturer's coupon for extra savings.
9) Hit Double & Triple Coupon Days at Your Grocery Store. To save the most money it pays to know your store coupon policies and be aware of which stores double or triple, and up to how much on each product.
10) Seek Out Money-Saving Blogs: Check out money-saving web sites that match up the best deals at local grocery stores with available coupons for extra savings. Two to check out are http://www.BeCentsAble.net and http://www.CouponCravings.com.
About Shortcuts.com
Shortcuts.com, a free service of AOL, is a totally paperless electronic coupon program linked to store loyalty cards. Shortcuts.com makes it easy for consumers to click, shop and save on the products they buy every week. For more on Shortcuts.com, visit http://www.shortcuts.com.