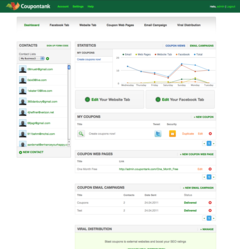 How do we keep our customers satisfied and returning?
Redwood City, CA (PRWEB) April 28, 2011
In today's weak economy many people are forced to scale back their personal budgets due to economic fears and rising food and gas prices. They are looking for ways to save money in every aspect of their lives. This economic dilemma has had a significant impact on businesses across America, and leaves many businesses asking the questions, "How do we keep our customers satisfied and returning?" and "How do we attract new customers to our business?" Businesses clearly need something powerful; a true method for getting new customers to visit their website or business site, and old ones to stay put. Luckily, as of lately, there is a promising answer to this need. It is a robust online web application: Coupontank.
Since 2007, coupon use has steadily risen (http://www.google.com/trends?q=coupons). This increase has been the result of a declining economy. The US consumer continues to turn to coupons to help with their own personal finances. In fact, Valassis, a marketing service company, reported in January 2011 "shoppers saved $3.7 billion with coupons in 2010" (http://www.santella.com/Trends.htm). People today have become value-centric, looking for the best financial opportunity for any of the purchases they make, from small grocery items to big-ticket items like vehicles.
As a business, coupons are a powerful marketing tool, as a special offer or coupon will encourage a new customer to visit a website or business, and old customers will appreciate that they have been reached out to and provided with a great deal. An added benefit of coupons for companies is that coupons are often the road to a consumer's loyalty. A consumer that is continually provided with coupons from a business will continue to be a patron of that business.
Coupons are the ticket to growing and maintaining a successful business in today's challenging economic climate. However, with all of the information available about the success of coupons as a marketing tool, many companies across America are left asking the question "How do we create coupons, distribute them, and get coupons on our website for people to view, print, and use?"
We found that Coupontank offered many new features that made the application stand out. Here are some other features that we particularly enjoy about Coupontank:
1. Complete detailed statistics on how each coupon did on a website or Facebook business page. Companies are able to see the number of views, clicks and more.
2. The service also includes the ability to start a coupon email campaign so a company can start building a list of customers and email out offers/coupons rather easily.
3. The coupon creation tool makes printable coupons, and they look great too! This feature is easy to use and kind of fun.
4. Security. Security is an important part of an online presence for a company. In the Coupontank.com coupon creation process, one can enable a security feature.
5. There is a plan suitable for every budget. While there is a free plan that allows to you create one coupon, the paid plans provide for a plethora of coupon options and each have a thirty (30) day trial period.
With the recent success of online coupon usage, Coupontank is a great marketing investment for any business that wants to expand during our economic hard times and beyond. Driving new business for your company will never be the same.
Established as a recognized graphic design firm, Black Stripe Design, LLC offers web application user interface, visual design and development. You may contact Black Stripe Design, LLC at http://www.blackstripedesign.com
# # #