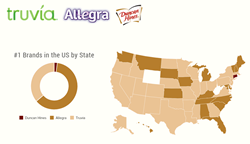 We know from the Inmar behavioral report that over 65% of shoppers look for online coupons and over 55% of them do clip digital offers.
New York, NY (PRWEB) October 13, 2015
The Purchase Decision Network (PDN), the leading network of shopping apps compared the coupon behavior of its app users to the findings published in Inmar's 2015 Promotion Industry Analysis, Coupon Trends and Shopper Behavior. Notable findings include:

The number of coupons clipped per user rose to 22, almost twice the 2014 number.
Despite this increase in demand, actual print coupon redemptions dropped almost 90%.
The average value of a clipped coupon was unchanged from last year, at $1.37.
PDN's coupon users saved on average $30.07 annually, again outstripping the national average savings published by Inmar of $15.34 (itself an increase over previous years).
There were 17 new products in the top 20 coupons clipped by PDN users. See here for a detailed infographic of coupon usage.
PDN attributed the dramatic drop in printed coupons to two factors. First, as reported by Inmar, overall distribution of printable coupons saw a declining share of total distribution for two years running and saw a 25% decline in redemption value for the last year.
But the bigger factor for PDN was the failure of print coupon suppliers to keep up with technological changes, making the already notoriously difficult process of printing close to impossible for a large subset of PDN's users.
"We know from the Inmar behavioral report that over 65% of shoppers look for online coupons and over 55% of them do clip online offers." said Sean Flynn, CEO of PDN. "So why take a previously growing category of offers and make it harder to utilize? I don't think they get the fragile and demanding nature of user experience design, where just small changes or additional steps lead to in dramatic reductions in uptake."
Mr. Flynn went on to say that in response, PDN has added SnipSnap, a leading provider of mobile coupons and the first app to scan, save, and redeem paper coupons from mobile phones to its network, and will aggressively roll out SnipSnap offers to its network participants over the coming year.
PDN attributed its outperformance on total savings to proprietary shopping keyword technology that automatically matches what users are shopping for with everything from coupons to taste and nutritional information.
For more information or to download the application go to http://www.MyShopperApp.com
About The Purchase Decision Network and Shopper
The Purchase Decision Network (New York) is the first native advertising network for CPG brands, targeting what consumers intend to purchase rather than who they are. PDN includes shopping apps that reach consumers across the purchase path as they plan, shop in stores and engage with the brands they love. PDN powers over 10MM shopping trips a month through best selling apps including Our Groceries, BuyMeAPie, Scan2List and Shopper.
Contacts
Sean Flynn, CEO
The Purchase Decision Network (888) 816 - 8125
pr@pdnmedia.com