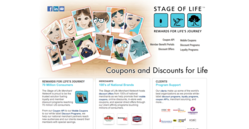 What could be more relevant than discounts tailored to your stage of life?" --Eric Thiegs, creator of the Stage of Life Coupon API
York, PA (PRWEB) April 30, 2013
As part of its mission to deliver Rewards for Life's Journey®, Stage of Life LLC announced that its Coupon API solution now contains over 250 national brands providing discounts for US consumers participating in Stage of Life's clients' affinity membership programs.
The influx of merchant partnerships brings a mix of additional benefits to the Stage of Life Merchant Network including new in-store web coupons, online shopping codes, direct discounts, and mobile enabled coupons.
"With our Coupon API solution, we're excited to be in a unique position that allows us to recruit new merchants and help them target either short-term promotions or long-term offers to audiences in a particular life stage," said Eric Thiegs, CEO and Managing Partner at Stage of Life LLC.
Thiegs continued by adding, "Adding our 250th national merchant to our discount program platform is an important milestone as it gives us even more flexibility in creating the custom loyalty solutions for our affinity clients who want something more relevant to the lives of their members, employees, cardholders, or customers than a standard online shopping mall...and what could be more relevant than discounts tailored to your life?"
The newly expanded Stage of Life Merchant Network can be deployed through its API or as a fully customized and hosted white label discount program for organizations to reward their members.
The Stage of Life Coupon API contains over 50 "sorting tags" that allow Stage of Life and its clients to sort and deliver the merchant offers by life stage (discounts for teenagers verses discounts for homeowners, etc.), gender (offers for men or women), generation (Gen Y offers verses Baby Boomer offers, etc.), offers by merchant category (travel, small business, apparel, dining, tickets, etc.), and most importantly, "We can create and add any custom sorting tags our clients or merchants need to our Coupon API solution" said Thiegs.
By the end of 2013, Stage of Life plans to be working with 300+ national merchants as it continues to expand its "Discounts for Life" marketing service solutions that include its Coupon API, mobile coupons, discount programs, discount offers, member benefit portals, and custom loyalty solutions.
For more information on the Stage of Life Merchant Network and its Coupon API or Mobile Coupon solutions, visit stageoflife.com/corporate.
# # #
About: Stage of Life LLC is a loyalty marketing agency formed in 2009 that specializes in building or consulting on member benefit solutions, merchant funded rewards, and loyalty programs, especially for affinity organizations or employers with members in particular stages of life.
Its core service revolves around its Coupon API that is currently deployed in discount programs reaching 20 million US consumers. In total, Stage of Life LLC and its various merchant coupon or reward partnerships touch over 70 million US consumers.
To accompany its corporate mission of helping make the world a better place, Stage of Life LLC also operates an educational literacy initiative to encourage and excite life-long readers and writers through its multi-generational blogging community found at stageoflife.com.
Contact: Stage of Life LLC
Eric Thiegs
President & CEO
contact(at)stageoflife(dot)com
http://www.stageoflife.com/corporate