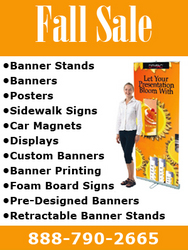 Glendale, CA (Vocus) September 21, 2010
Starting September 14, 2010, Digital Pre-Press Services (DPS) has announced that the company will be having a Fall Sale until December 21, 2010. During this sale customers will save 10% off their purchase which is highly welcomed during the current challenging economy.
These savings are essentially a deep discount to customers taking in account the already low prices DPSBanner.com provides on a regular basis. The Fall Sale at DPSBanner.com is site wide so customers can realize savings throughout multiple advertising streams. Some of the more popular items included in the Fall Sale are banner stands, retractable roll up banners, X and L banner stands and pre-designed banners for multiple occasions and retail sales. Each advertising tool offers a unique perspective and way to target different audiences, areas and niches. With sales like DPSBanners.com's Fall Sale, it makes it easier to try different advertising mediums and see which works best.
Customers can save 10% off their purchase by entering in the coupon code Sale2010Fall during checkout. Whether promoting a product or service through a vinyl banner, mesh banner, poster, sidewalk sign or window cling, the extra 10% savings will allow flexibility in making that choice a little easier. Those customers spending $150 or more on their order will automatically receive free shipping.
With no minimum purchase requirement and availability to apply the coupon to all advertising and marketing products on the site, DPSBanners.com is a huge resource for quality banners, banner stands and other advertising tools at an affordable price and extra 10% discount when using the coupon code Sale2010Fall.
For additional information and details on specific selections, please visit http://www.dpsbanners.com.
About Digital Pre-Press Services, Inc.:
Founded in 1996, Digital Pre-Press Services is visible online at DPSBanners.com. The company, located in Glendale, California, provides simple, affordable and professionally designed banners that can be personalized and customized exclusively online. Through the site, DPS has a wide array of products including banner stands, window clings, car magnets, retractable banner stands, sidewalk signs, pre-designed banners and more.
Contact:
Digital Pre-Press Services, Inc.
Toll Free (888) 790-2665
Local (818) 240-2004
Fax (818) 240-3456
http://www.dpsbanners.com
# # #