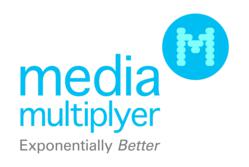 Dallas, TX (PRWEB) February 05, 2013
CouponFactory announces the launch of Media Multiplyer, a first-of-its-kind new rich media technology that allows brands, marketers and media buyers to optimize digital ad spending while providing consumers a rewarding way to engage with and redeem offers from their favorite brands.
Spun off from CouponFactory's digital couponing platform, Media Multiplyer allows brands to engage customers across multiple digital channels and devices from a single self-contained, sharable ad unit. By interacting with Media Multiplyer–powered ad units, consumers can share a brand's coupons, deals, offers and messaging with their social networks, as well as via mobile phones, email, desktop printers and even direct-to-e-commerce shopping carts.
With Media Multiplyer, brands in all industries – including CPG, retail, automotive, pharmaceutical, telecommunications and more – can exponentially increase the penetration of their digital advertising messages by offering incentives that encourage consumer interaction.
"Interactive marketing is meant to be actionable and engaging," says Dawn Maire, CEO, Media Multiplyer. "Yet some brands are spending billions of media dollars on ads that simply serve up an impression. We built Media Multiplyer to help brands break through the noise to get more mileage out of online advertising, while rewarding consumers for engaging with and sharing offers from their favorite brands and retailers."
Media Multiplyer creates agile, portable, customizable ad units of any size that can be placed anywhere across paid, earned and owned digital media. By leveraging the power of the Amazon Cloud, simple HTML and JavaScript, these portable rich media ad units allow messages to be shared across email campaigns, ad networks, Facebook brand pages and apps, Pinterest, websites, microsites, blogs, offer galleries, mobile devices and more.
As consumer engagement increases with a brand's Media Multiplyer ad units, so does the valuable data and analytics capabilities. This new technology allows brands to capture customer information, helping marketers build robust email marketing databases. The service also provides rich marketing data through real-time campaign dashboards – so marketers can see every click in real time.
"Media Multiplyer offers more advanced tracking and a deeper level of analytics than other rich media platforms can provide," says Maire. "Marketers can see real-time data as consumers click on their ad units, so they can learn everything from how a consumer finds the ad unit to where they go after."
Media Multiplyer is the only product on the market that brings brands, marketers and media agencies the best of offerings like SocialTwist, PointRoll and Coupons.com, while also delivering improved tracking, measurement, functionality and a best-in-class consumer experience.
Media Multiplyer's rich media technology delivers:

Multichannel offers: Media Multiplyer works on any digital property, including email, Facebook pages and apps, Pinterest, Websites, microsites, blogs, ad networks, mobile devices and more. By engaging across channels, consumers can exponentially increase offers simply by sharing.
Valuable customer data: Media Multiplyer can capture customer information to help marketers build rich, actionable databases.
Robust, real-time analytics: The service includes campaign dashboards, with metrics including referring URLs, impressions, print conversion rate, click-through rate and metrics to show how your content is shared via social media.
Security: Media Multiplyer includes eight layers of security – including encrypted coupon IDs and anti-copy marks – to protect brands from fraudulent usage.
To learn more and to view the Media Multiplyer video, visit MediaMultiplyer.com.
About CouponFactory
CouponFactory is the industry's first self-service portable coupon platform. CouponFactory's highly secure Coupon Management System (CMS) allows brands and retailers to quickly create, distribute and track their digital and mobile coupons on virtually any paid, earned and owned digital property. CouponFactory CMS powers brand and coupon websites in both the U.S. and Canada. CouponFactory's client list includes Hormel, Barilla, Frito-Lay and Time Inc.