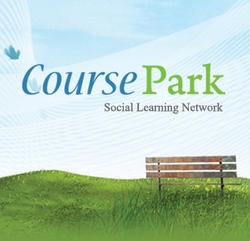 I believe this is the best marketplace for learning on the Web
(PRWEB) February 25, 2011
CoursePark, the world's preeminent online social learning network, recently launched its new CourseMarket. This dramatically redesigned marketplace embodies much of our user's feedback on the need for easy, accessible global learning opportunities and offers thousands of eLearning courses to both businesses and individuals worldwide.
Over the past year, CoursePark has seen very rapid growth in both the number of eLearning courses available and its user base. "We have evolved our CourseMarket to meet the evolving needs of our users — I believe this is the best marketplace for learning on the Web," says Product Manager, Tim Brown. "Our new CourseMarket contains advanced search functionality, user ratings and hundreds of new courses, all encompassed in a user-friendly interface."
The new CourseMarket offers a vast selection of premium eLearning courses and educational resources, extensive course information, streamlined searching with advanced search options, intuitive navigation, user ratings, photos and customizable viewing options. With the updates in place, CoursePark continues to offer the same high standard of course delivery and ease of access that provides CoursePark learners with quality online learning they struggle to find elsewhere.
For more information on CoursePark's new CourseMarket or to see the new CourseMarket for yourself, visit http://www.coursepark.com or email info(at)coursepark(dot)com.
About CoursePark
CoursePark is an online Social Learning Network that offers eLearning solutions to both businesses and the general public. More than 25,000 individual users and hundreds of companies have registered in over 50 countries around the world in the past months. CoursePark is quickly becoming the world's learning portal of choice.
###